The other day I compiled a list of the disappointment XI, the eleven most disappointing premier league players this season. Following on from that, it may pain me to do so, but here is the Premier League Team of the season so far. I have stuck to my footballing roots and named a squad around the 4-4-2 formation and in so doing have taken one or two liberties of course. Who would make yours?
GK – Asmir Begovic (Stoke City)
Stoke's Bosnian goalkeeper has been a major performer for Stoke City this season. With six clean sheets this season for Stoke, Begovic has ensured that the rugby style of Stoke is successful by maintaining the second best defence in the league. Begovic produces around 5 saves a game for Stoke, and is becoming an increasingly consistent performer for the Potters. When he was at Portsmouth he was an outstanding shot stopper who really has been slowly finding his way back to his best.
RB – Branislav Ivanovic (Chelsea)
The 28 year old has become a hugely effective right back, and his eye for goal is an added bonus to his game. He has found the net three times, but it is his defensive work that is particularly impressive, with many of the league's best wingers struggling to get the better of him. His sending off against Manchester United was a blip in an otherwise impressive start to the season.
CB – Fabriccio Coloccini (Newcastle United)
The Argentinian has become one of the best defenders in the Premier League, and it seems a lifetime ago that he struggled so much early in his Newcastle United career. He is very comfortable on the ball, much in the mould of David Luiz, but he is also an excellent defender. When he has been injured, Newcastle have looked far more vulnerable at the back, and barring his sending off at Anfield he has been almost faultless this season.
CB – Gareth McAuley (West Bromwich Albion)
West Brom were tipped to struggle at the start of the season although six home wins mean they are an incredible third in the table and Gareth McAuley has been part of a stingy defence that didn't concede at The Hawthorns against Everton, Liverpool, Southampton and Reading. The Northern Ireland international was signed on a free last season and even pitched in with a goal against the Toffees which remains Everton's only defeat of the season to date as well as a timely assist this season.
LB – Leighton Baines (Everton)
Is Leighton Baines the best player in the Premier League? Well maybe not, but he sure is pushing for that title. His incredible performances this year were the bedrock on which Everton started their season in a bright fashion for a change. He has created more goal scoring opportunities than even Santi Cazorla and his link up play with Steven Pienaar is a sight of beauty for anyone. Everton may well face an Arteta-like battle to keep him at the end of the season if they don't make Champions League.
RM – Eden Hazard (Chelsea)
The Belgian star has been sensational since his big-money move in the summer. Equally happy on the left, the right or in the centre, he has incredible pace and change of direction. Throw in great skill and technical ability and you have a pretty special player. Six assists is an impressive tally, but three goals is a little disappointing. His form has dropped ever so slightly since the opening weeks of the campaign, but he remains one of the most dangerous players in Europe at the moment.
CM – Santi Cazorla (Arsenal)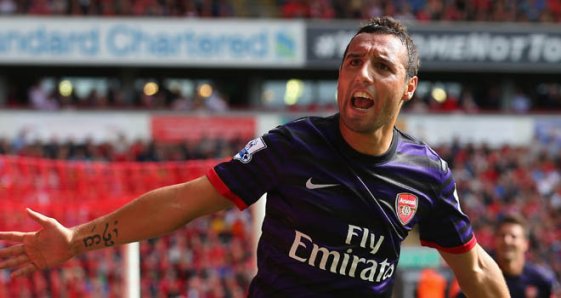 Like a duck to water has been the way Cazorla has adapted to the Premier League. When the diminutive Spaniard is firing, then so are the Gunners. He has created the second most goal scoring opportunities in the league and his presence in the Gunners squad has been a field good factor for the beleaguered Gooners. His goals against Manchester United and West Ham will both make the final list for goal of the season too! 
DM – Marouane Fellaini (Everton)
Fellaini has enjoyed a wonderful start to the season, and he is fast becoming one of the most effective young midfielders in the Premier League, if not Europe. On his day he is unplayable, winning everything in the air and bullying many top players. Equally happy in a defensive or attacking midfield role, he is very versatile. The 24 year old already has five goals to his name, including a winner against Man United in Everton's opening game and if he keeps this going will make Everton a LOT of money!
LM – Juan Mata (Chelsea)
Put simply, Mata has been the best player in the Premier League this season. Much like his compatriot David Silva, who was sensational this time last year, Mata has been a joy to watch, creating eight goals and scoring seven, in all competitions. He has four goals in the league, including a memorable free-kick against United and two clinical finishes away to Spurs. He would walk into any other international side in the world, but sadly for Mata he has some even better players in front of him in the pecking order for Spain. Arsenal must still be kicking themselves for missing out on him last year!
FW – Luis Suarez (Liverpool)
Okay Liverpool supporters here you go. As this is a positive list I will speak only on the positives. Suarez is world class. His ability is better than probably everyone barring Robin van Persie. He has worked on finishing a bit better this year and has single-handedly kept the Champions League spots on the horizon for Liverpool. His goal against Newcastle was one of the most incredible displays of ability in years. Liverpool desperately needs to hang on to the Uruguayan hit man
FW – Robin van Persie (Manchester United)
This hurts more than any other name on the list. Robin van Persie or Judas as the Arsenal fans have affectionately come to know him, has taken the form he had in his Arsenal days up to Manchester and continued in the same vein. So much so that Sir Alex has already faced the inevitable 1 man team questions. The value in RVP is not only in his goals but also in his assists and his presence in the Red Devil line-up seems to have motivated Hernandez to work harder too.
Substitutions
GK – Joe Hart (Manchester City)
DF – Rafael da Silva (Manchester United)
DF – Jan Vertonghen (Tottenham Hotspurs)
MF – Mikel Arteta (Arsenal)
MF – Leon Osman (Everton)
FW – Shane Long (West Bromwich Albion)
FW – Steven Fletcher (Sunderland)
Manager:
Steve Clarke (West Bromwich Albion)
West Brom were tipped for relegation this season, but under the tutelage of Clarke they have soared. They have incredible home form winning 6 out of 7 and are fully deserving of their current Champions League spot. With the faltering form of Chelsea, Arsenal, Everton and Tottenham, could we finally see the kind of surprise in the EPL that would make Platini wet himself? Well maybe not, but let's enjoy it well it lasts.
Assistant Manager:
Sam Allardyce (West Ham United)