All Things Jabu is a massive fan of South African hockey (You will remember from the coverage of the Champions Challenge) and ahead of the South African womens Investec Series to prepare for the Olympics Qualifier, Jabu sat down with Sanani Mangisa, the South African shot stopper, and chatted about all things SA Hockey.
All Things Jabu (ATJ): Hi Sanani, thanks for taking the time to sit and chat with us. Getting straight to the point, are we going to qualify for the Olympics and if we do, what will our ambitions be?
Sanani Mangisa (SM): The qualifier is in India in February. A win there guarantees us a spot in London. As far as our ambitions for London, we have team goals and ideas of where we would like to finish. But for now our main aim is to finish top in India, which we will.
ATJ: Were the players irritated with the new rulings from SASCOC and SAHA, or have they accepted the challenge?
SM: Irritation towards the matter would not have helped us qualify. SAHA, SASCOC and all other international Olympic bodies have the right to set qualification criteria they deem fit for all sports. We have accepted the challenge and have a job to do in India.
ATJ: You and Mariette Rix are battling it out over the number 1 spot, what do you think it will take for you to cement the spot for the Olympics as your own?
SM: Consistency in match winning performances will get me the number 1 spot. Leading up to London 2012 I will need to keep clean sheets which enables our team to get results in matches.
ATJ: You also played alongside the longserving Northerns Blues legend, Inke van Wyk. Were you able to learn a lot from her?
SM: I learned a lot from Inke in my time playing with her. She has a wealth of experience which I was able to tap into.
ATJ: A lot of South Africans are going overseas to play club hockey now. What needs to be done to improve the level of hockey in South Africa?
SM: We have a lot of talent in South Africa but unfortunately lack a competitive league structure. We would need to have a national league whereby we are playing competitive hockey every weekend. With that comes funding which is a big problem.
ATJ: Have you got any plans to go play overseas on a long term basis?
SM: At the moment I have no immediate plans to play abroad. I would love to but due to studies I have not been able to until now. Hopefully an opportunity will come up to play abroad.
ATJ: Having been privileged enough to play in the same team as the legendary Pietie Coetzee, we have to know, how is it keeping to her in practice?
SM: Haha! This question always seems to creep up. Pietie is an exceptional player. That said, its important not to get caught up in the moment of facing Pietie Coetzee. You have to bring the same mentality with all players. But I'm glad I get to play with her and not against her.
ATJ: As one of your twitter followers, we know you are into your other sport too. Specifically what other sport are you into and who do you support?
SM: I love all things sport. I flick between channels 200 – 208 all the time. My top 5 sports are soccer, cricket, rugby, tennis and basketball (in no particular order). Of course they all fall behind hockey.
ATJ: What made you decide to be a goalkeeper? Was there never a moment when you thought you could knock away 30 goals a season?
SM: Haha! Before being a goalkeeper I actually started out as striker. Goalkeeping to me came as an impulsive decision. It was during a P.E. lesson were we needed a goalkeeper and no one volunteered. I just decided to put my hand up and as they say the rest is history.
ATJ: What has been the highlight of your career so far?
SM: Its a close contest between the 2010 Commonwealth Games and 2008 Olympics Games. Both are special for different reasons.
ATJ: Who has made the biggest impact on you as a coach in your career?
SM: I've been lucky enough to have some good coaches throughout my school and senior hockey. My biggest influence came from Jeanette Rennie my school coach and Joppe De Vries my current goalkeeper coach.
ATJ: If you weren't playing international hockey for South Africa, what would you do?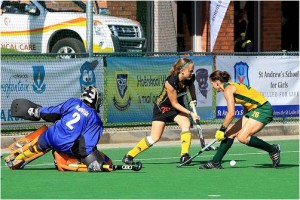 SM: Getting into trouble somewhere. No I'm only joking. My passion lies in sport. I would probably be doing something sport related.
ATJ: What has Giles Bonnet added to the South African ladies team?
SM: Amongst many things Giles has added to our team is that he has been able to get specialist coaches to work with our team. He remains as the head coach but sources coaches that are good in different areas to work with us. This has proven to work with our team as we get different aspects from different coaches.
ATJ: All Things Jabu was recently at the Australia U17 vs. South Africa U18 series in Pretoria, where the Aussies were really incredible. What are they doing that puts them ahead of us at such an early stage?
SM: As far as I know the answer lies in their junior programs. From an early age they find themselves in junior hockey programs of a high standard. We need to find a model that will work in South African schools and invest in it.
ATJ: Where can we read more about you and what you are up to?
SM: Catch me on twitter @ladysans and our website www.sahockey.co.za and my blog which I kept during the last Olympics will be back up again at the end of Jan. sananimangisa2.blogspot.com
ATJ: Thank you so much Sanani, good luck for the qualifiers in February!
SM: Only a pleasure Jabu. Anytime.
Catch the South African Women in action at the Randburg Astro Turf over the month of January against Belgium, Spain and Ireland. The fixtures are:
15 January 14:00 vs Spain
17 January 19:00 vs. Spain
19 January 19:00 vs. Spain
21 January 14:00 vs. Spain
22 January 14:00 vs. Spain
25 January 19:00 vs. Ireland
26 January 19:00 vs. Belgium
28 January 14:00 vs. Ireland
29 January 14:00 vs. Belgium
31 January 19:00 vs. Ireland
1 February 19:00 vs. Belgium
4 February 14:00 vs. Belgium
5 February 11:00 vs. Belgium
Come on down and support our ladies!