As the AFCON is well and truly underway, we also have the exciting European Championships to look forward to in May. While Uefa's flagship competition is often seen as the most competitive and exciting International football tournament, I think due call has to be given to the African flagship and that is why I have thought about a fair way to decide which is the better competition. So I have taken them head to head in terms of fan numbers, quality of pitches, the surprise factor, the players, the countries rankings and the goals. My verdicts will be largely based on the most recent occurrences of both these prestigious tournaments, namely the AFCON 2010 in Angola and the Euro 2008 in Austria and Switzerland. 
FAN NUMBERS
An unfortunate tell tale sign of the current AFCON is the lack of supporters that have been to games other than those of the host countries. This might not be a problem at next year's tournament when we host it, but Gabon and Equatorial Guinea as well as Angola in 2010 have struggled. At Angola in 2010 a total of 543 500 people watched the games live. That is approximately 18 700 per game. If we compare that stat to the Euro 2008 competition in Austria and Switzerland we will see that there are almost the same amount of teams (Togo withdrew) and two games more, but the figure is a staggering 1 140 902 which is approximately 36 800 per game. So on this one I will have to say it is Euro's 1 – 0 AFCON.
GOALS
In Austria and Switzerland there were 77 goals in 31 matches at an average of 2.48 goals per match. These figures were well helped by Spain and Holland who clocked up 12 and 10 goals respectively. While at the same time the AFCON featured only 71 goals (but it must be remembered Togo pulled out and those 3 games didn't happen) at 2.45 per match. Of course they were largely attributable to the 15 scored by Champions Egypt, which is 10 more than second highest scorers Ivory Coast. As we speak there have already been 61 goals scored in this year's AFCON which will be just over 2.5 goals a game! And maybe because I am African, but with the remaining 8 games I foresee another 17 goals being scored which will take it to 78! So AFCON 1 – 1 Euro's
QUALITY OF PITCHES
When you play in Europe you play on what can simply be described as carpet. Quite often I have watched Bafana go into Africa and play on some of the worst pitches in the world. Another standout memory from this year's AFCON will be that of the pitch when Senegal lost to Equatorial Guinea. The pitch was badly waterlogged and this affected the ability of the teams to play fast free flowing football. The game was entertaining  for many reasons, but watching a player smash a short pass takes away a bit from the game for me. And while there are pitches in Europe which are far below standards (See Wigan and Russia in general) the pitches used at the Euro's will be nothing short of high class! Euro's 2-1 AFCON
THE SURPRISE FACTOR
In the past 10 events, there have been 6 different winners of the AFCON, but I think in terms of surprise factor we need to look a step further. If we look just at this year's AFCON we see that only 3 of the top 10 African sides have qualified for the competition, but we can take that even further. 2010 saw Malawi beat Algeria, Ivory Coast draw to Burkina Faso, Gabon beat Cameroon and of course Algeria beating the Ivory Coast. In Euro 2008 the only big shock was the one which saw Russia beat the brilliant Holland and possibly the Switzerland win against the Portugal B team. But overall its the African showpiece that shades this one in terms of which competition offers you a larger surprise. AFCON 2-2 Euro's.
THE TEAMS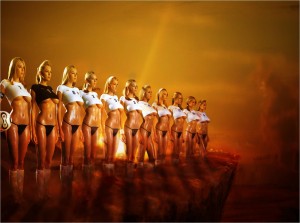 While in Europe and Africa there are approximately 50 teams in both, if we look at the FIFA World Rankings at just the top 50, the European nations own 28 of these spots. They also own 7 of the top 10 nations, all of which have qualified for the next edition of the Euro's. Africa at the same time only have 6 teams in the top 50 and of their top 10 only 3 qualified for the AFCON. I don't think we need to see much more here to safely conclude that the Euro's feature the best teams the planet has to offer, but if we did we just needed to look back two years to the first African World Cup, it was played between two European sides!  Euro's 3-2 AFCON
THE PLAYERS
We all like to watch the best players in the world on a weekly basis, that's why so many of us spend our time watching the English Premier League and La Liga of Spain. The most recently awarded Fifa Ballon D'Or is widely regarded as the top prize in football. As a result we look at the 23 nominees and see how many of them would be eligible to play in the African showpiece compared to the European one. Its a sorry story for the Africans as only one nominee makes it compared to 17 European players.  Another landslide bigger than the ANC's win over the DA. Euro's 4-2 AFCON.
CONCLUSION
While the Euro's win our battle by 4-2, I think the scoreline shows how interesting the AFCON can be. This years AFCON could see a completely unheralded winner with Gabon, Mali, Equatorial Guinea, Zambia and Sudan in the final 8, it could be anyone's game! If not, then its cool, its football and we love it!