Jabu – I am probably a mere 20 minutes of training away from being able to complete my first Iron man, however, due to a crippling injury to my left sideburn I have been unable to do this training. However in my venture to bring you the best of All Things Sport (see how that works with the name of the site???) I spent many hours searching for someone who would be willing to subject themselves to the slaughter that is the Iron man. And would you believe, I found a woman! Amy Fane-Hervey is a friend of mine that recently took part in her first Half Iron Man. I asked her to share her thoughts on the race, the prep and the adventure of a lifetime.
She produced this classic that will either inspire you to get off the couch and start training, or at least pique your interest in a sport that showcases the tenacity of the human mind.
Inside the Mind of the Iron Lady
I recently completed my first Half Iron Man in East London, South Africa. I do not profess to be a serious athlete of any sort, and really am a normal, semi-active 20 something girl who sought the promise and perils of achievement. I spent the better part of 2011 working in London, and before coming back to Johannesburg, I entered the Spec Savers Half Iron Man, not knowing what to expect, except hoping I might be able to shed some of the extra pounds I was carrying  from an over indulgence in cupcakes and wine in London.
The half iron man consists of a 1.9 km swim in the sea, a gruelling 90 km road cycle, followed by  a 21 km road run. Adding these distances together amounts to 112.9 km, or 70.3 miles, to which the race is commonly referred.
Training
I downloaded a training program which looked reasonably do-able. It consisted of 5-6 days a week of training, 3 of which were double days, meaning morning and evening sessions. My first stumble was on the meaning of 'Brick training' which, according to the program, I was supposed to do on a Saturday. My equally amateur friend, Tarryn and I, both thought this meant running with bricks in your hands to make you strong, and we seriously envisioned biceps of steal. We couldn't have been more wrong. Brick training in fact refers to the training of two disciplines during the same workout, one after the other with minimal or no interruption in between, just as you would do in a race. I.e. getting off the road bike, tossing your bike on top of the car, changing your cleats for running shoes, and running on the road. I found this particularly difficult, as well as time consuming, and as a result didn't do much of this.
 A normal week would consist of the following:
| | | | | | | | |
| --- | --- | --- | --- | --- | --- | --- | --- |
|   | MON | TUES | WED | THUR | FRI | SAT | SUN |
| AM | Rest | Run 1 hour | Run 1 hour | Run 1 hour | Rest | Cycle 60-80 km | Run 15-20 km |
| PM | Swim | Spin 1 hr | Swim 1 hr | Spin 1 hr | Rest | Rest | Rest |
 In any given week, a couple of these sessions were missed due to work, social or other commitments, and sometimes just due to sheer exhaustion. None of it would have been possible if I had not joined certain groups in each discipline.
Running
Bryanston Bombers

. Consisting of morning runs from the Bryanston Methodist church under the auspices of the hard working but ever-encouraging Gill. An enthusiastic running group, who were all incredibly supportive and pushed me to run harder and faster. We also referred to them as the Third Reich as waking up to run at 5 am often took some discipline.

RAC running club

. I ran about 4-5 Sunday club runs with this lot. The runs are between 23-28 km, around Johannesburg with pre defined routes and maps handed out at the beginning of the run. The maps were promptly folded and squashed into my sports bra which meant I had the roads of JHB printed on my chest most Sundays. The best part of the run was stopping half way at an Engen garage, buying water and filling it up with

PeptoPro

(which my friends and I nicknamed 'Peptopoop'). This stuff is like gummy berry juice and I could quite literally feel the release of new energy it provided. I couldn't have done any of my training without it and would highly recommend it to any endurance athlete. (It can be bought from Dischem for about R350 a bucket.)
Cycling
Club 100. A cycling club that does long Saturday and Sunday rides, with road safety marshals
and back up vans. I looked forward to this the most and dreamt of the post ride coffee and cookies from Mugg and Bean in Broadacres and Woodmead days before the cycle.  What a stellar group of incredibly helpful and knowledgeable folk! They always assisted me with lowering my bike off my boyfriend Jamie's car (I'm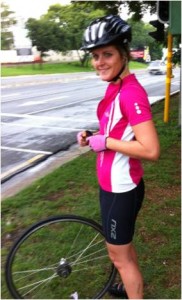 only 5.3 ft and can't reach the top, even on my tipi-toes) and were only too happy to dispense the best nutritional and training advice. On my first ride with them I got a puncture which I had no idea how to change, and the backup group stopped with me and sorted the whole thing. On my second ride I broke my chain because I didn't know how to change gears properly, and one of the men dropped back from the group, fixed my chain, and cycled with me all the way home. On my third ride out, with just a girlfriend (the equally amateur Tarryn) and I on our own, we got another puncture.  Gary Kirsten happened to be running past us on the side of William Nicol that morning and we giggled like school girls and shouted "Gary please can you help us change our tyres!"
Swimming
I
n December, I realised my swimming was not up to scratch, I had only managed to do a couple of sessions of about 40-60 lengths, heralding a real problem for me.  I enlisted the services of Charlotte and Freddie at the Virgin Active Morning Side swimming squad. I was by a mile the slowest of the group, and was told that I should try not 'plough' through the water.  The boys and girls in the squad swam like pivoting torpedoes and I gawked under water and their streamlined physiques. The coaches were amazing and pushed me to swim distances I never thought possible.  Most sessions consisted of 80-100 lengths. I hired a wetsuit from Xterra wetsuits, which cost me R350 to rent for four weeks and felt very silly when I swam in it in the Virgin Active pool to test it out.
Eating
Anyone who has ever done a half or full iron man will tell you that you can quite literally eat anything you like. This is 100% true. I could not eat enough and still lost weight. I demolished brownies, devoured pasta, inhaled sweeties, ate pizza for breakfast, smashed energy bars as snacks and thoroughly enjoyed it all. The calories burnt during the training sessions more than made up for the over indulgence. It was the most fun I have had with food and I worry about how I will go back to normal eating.
The costs
What I didn't realise, is how expensive this sport is. It's not quite like running, where all you need is a road, some shoes and a T shirt and you can run anywhere. Triathlon is a serious investment. As chartered accountant, I kept tally of everything I spent which included cycling shoes; cleats; tri-suit; nutrition; race entries to half marathons, race entry to 94.7; actual iron man race entry; petrol to drive to East London; sports glasses; cycling gloves; bike bag… the list goes on. Over the 4 months of training, I estimated to incur between R15, 000 – R20, 000.
The actual race
Making it down to East London in one piece was a feat of its own, with bikes strapped to the roof, a night over in Bloemfontein, and lamb and mint pies for lunch. Arriving in East London was overwhelming and exciting. At the beach front near the Garden Court was the registration hall, which was filled with scantily clad athletes whose veins popped from their arms and whose bikes made my R3,000 Merida look like a tricycle. They had helmets whose shapes matched the contour of their necks, compression socks to keep their blood flowing, tri bars for uber-coolness and ultimate triathlete status, and I even noticed some '70.3' icon tattoos on some inconspicuous ankles and arms. The most important thing was not to get caught up in the commotion of "How much training have you done?"  Ignore and move on, these people who have done 'no training' are quite clearly quite phenomenal and will cruise past you on the race. After taking it all in, Jamie asks me, "How do you know someone is doing the half iron man?" "No idea" I reply. "They'll tell you themselves," he tells me, chuckling at his own joke.
I did a pre race day swim and cycle, to make sure everything including mys
elf still worked properly, leaving Jamie in the Wimpy with an ice cream to keep him occupied. Pre race jitters were evident the day before and attention to detail is crucial. The bike pen is packed with thousands of dreamy bikes and kit, which cumulatively must cost a fortune. Each row is demarcated with bike numbers and the organizers show you to where you should load your bike. Three bags must be packed and handed in, consisting of your swim to bike transition, your bike to run transition, and your post run back. Race number stickers must be placed in all the correct places, and nutrition must be in all the correct bags. I checked all my bags about five times each, and still dreamt they were incorrectly packed. Bottle were filled with Peptopro and placed overnight in the freezer.
On the Sunday morning of the race, we woke up at about 4 am, as we had to drive from Chinsta East (where we were staying) to East London. I wolfed down two pieces of toast, peanut butter, honey and a banana, following by a pre race carbohydrate gel (all of which goes totally against the low-carb-must-look-fabulous-and-skinny-girl-diet). I donned my tri suit, followed by my wetsuit, arrived at the start, needed t
he loo, didn't like the smell and look of the long queue, found a bush and some leaves, and entered the female pen to start our swim. I stood with my two tall and leggy blonde girlfriends at the start and noticed some yellow trickles of something-something flowing out of the bottom leg sleeves of one girls' wet suit.  The three of us found ourselves to be the only giggling, motley lot as the race started. Standing on the beach, waiting for the women's start was an unbelievable feeling of exhilaration and accomplishment. I thought to myself that even if I didn't make it and something went wrong and Gary Kirsten wasn't there to change my tyres, I had got this far and that was an accomplishment on its own.
Swimming is not my strong point, and I ploughed slowly through the 1.9 km fending off a few karate kicks and attempts to swim over me. I was glad to have the swim over and could now focus on the cycle which I knew I would enjoy. Swim time: 42 minutes.
The cycle was a tough and undulating route. The first 45 km were mostly uphill, and drafting is not allowed which means you can't take advantage of trailing other cyclists to shield you from the wind an
d must be at least 10 meters away from the person in front of you. If not, you would be issued with a penalty card by one of the black-and-white-striped referees that zoomed up and down on motorbikes. Being light has its advantages up hills but has equally similar disadvantages coming down and many heavier athletes flew past me on the way down. I would have liked to have had tri-bars as I believe they make a big difference to your time and comfort, but they were just too expensive. The 45 km coming back in were great and the spectators along the route were awesome. Cycle time: 3 hours 10 minutes.
Nothing could have prepared me for how difficult the run was, and I attribute this mainly to doing hardly any 'brick' sessions. Running 21 km on its own- no problem. Running 21 km after a 90 tough cycle- seriously hard. The supporters were wonderful and the organization phenomenal. Water, Coke and Energade stands were strategically placed every 2 km along the route. I have never enjoyed a Coke so much. My legs felt like lead and I just couldn't 'get my run on'. I saw Jamie along the route and felt a bit tearful, but then quickly cheered my up when I heard him loudly shout "that's my girl, doesn't she have a great bottom!!!" I was utterly mortified. Only towards the last 4-5 km of the run did I find my running legs, and got into a rhythm. Crossing the finish line was the most exuberating feeling of accomplishment, achievement and satisfaction. I could not keep the smile off my face, and the glee lasted for days thereafter. I would highly recommend the experience to anyone able to run a couple of km, you will be amazed at what your body can do. Run time: 1 hour 55 minutes.
Overall time: 5 hours 55 minutes.
 Some photos, courtesy of Iron Man Finisherpicx 2010 photography