On Saturday 25 February, I took the venture into a much unknown world for me. On the invitation of Mrs Fast, Clare Vale herself, I headed off to Zwartkops International Raceway to attend my first ever drifting event, the SupaDrift Series. Not only
would I attend the event, but I would be taken around the track as a passenger to experience first-hand what sideways driving is all about. I had been given instruction earlier in the week that I would need to wear long pants and a jersey and after grabbing them and my trusty hand held camera headed off to Pretoria with the excitement of Josh Strauss' girlfriend at the thought of him losing his beard.
I have been to Kyalami a few times to support Clare in the other disciplines that she races in, being the 917 for the legend series and the beautiful V8, but this was my first experience of attending Drifting or being at Zwartkops for that matter. A pleasant surprise is what greeted me.Upon arrival one of the most notable things that stood out was that the atmosphere was more relaxed than any other racing day that I have experienced. There is something special about SupaDrift that brings out the most approachable side of the sponsors and the drivers. And this was evident almost immediately. I was welcomed into the it by Dirk Vale, Clare's son and ATJ contributor, and was quickly taken to meet some of the legends of Drifting in South Africa. From Wade van Zummerman and Jim McFarlane to Jonathan Rudman and Jason Webb. The drivers were very accommodating and took the time to chat to me as well as dish out drinks from their sponsors. (Almost everyone has an energy drink sponsor and I was buzzing after the third one!)Optimus Prime had retired
Another thing about the Vibe is that there is a real party atmosphere, which was helped by the transformer like Red Bull car. The raceway is awesome and a real day out could be planned for you and the family. You can even bring your own braai with and really make a day of it.
One thing that is constant at any racing event is the presence of the pit girls and drifting while still building a name for itself in South Africa has stuck to the tried and tested approach and incorporated ladies who are easier on the eye than coke mixes with Klipdrift.  After having a brief discussion with one of the ladies who I know from our high school days, I was informed that I would be going around the track with the brilliant Wade van Zummerman. My excitement quickly transformed as I became more nervous than Justin Bieber waiting for his gender results test. Unfortunately in his second last practise run, Wade had contact with another driver and it was quickly decided that I would go around with Jim McFarlane, one of the event organisers.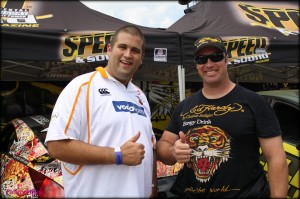 After I negotiated my way into the car, showing incredible pretzel-like skills to manoeuvre my large frame through the roll bars, we slowly headed our way around the track to the starting point. In drifting you only drift through the scoring zone which is essentially 3 or 4 turns as you can see in this video. It is very hot in the car and you spend a quite a bit of time waiting for the track to open up ahead of you, but as soon as you pull off, the wait is extremely worth it. With an incredible speed you launch into the corner and defy common sense as you turn against the corner. The thrill and excitement maximise as you are catapulted into the corners trying to maximise your turn while remaining on the track. I can honestly tell you that the thrill I experienced was definitely one of the best sporting experiences of my life.
But after all my excitement, there was still a competition to be had. Although the rain played havoc on events, it was eventually the racing equivalent of Duckworth Lewis that decided the result on the day. It was Jason Webb that took the victory ahead of Adam Shefer and Wade van Zummerman. The season continues with the next events:
10 March – East London GP
6-8 April – Sun Coast Casino
2-3 June – Zwartkops
27-29 July – Coca Cola Dome
18 Aug – Zwartkops
22 September – Zwartkops
5-7 October – Grand West Casino
24 November – Zwartkops
Id like to thank all of those who helped set up this amazing opportunity for me. Clare Vale who continually keeps surprising the racing world with her improvements, Dirk Vale the PR machine, Taryn Miles, Marcel Sigg and Margueriethe van Rhyn from Run Ride Dive for the amazing photos that helped me remember the day and lastly to Jim McFarlane for sharing the adventure with me!
While this was my first adventure into SupaDrift, i can promise you it was not my last!
You have a chance to win now too. Zando is an online clothing shop in South Africa and they have offered some discount vouchers for lucky readers of All Things Jabu. To win answer the following question: Who won the opening round of the SupaDrift series?
Answers can be tweeted to @ATJabu, emailed to Jabu@allthingsjabu.co.za or entered on the All Things Jabu Facebook page
Competition entry closes on Friday 2 March 2012 at 12:00 SA Time.