As a massive sports fan I have always backed myself as one of the greatest sportsman to grace the planet. In fact I have even thought of myself as greater than Gary Player, Sir Donald Bradman, Messi, Federer and even Danie Craven. Of course in stark contrast to my own gilded illusions, I am more a Stepanovs than a Tony Adams. That of course does not mean that I shouldn't partake in sporting adventures of my own and start a quest to become the best of the worst. Of course the hardest part is often knowing where to begin. Here is my pick of the best venues for amateur sports in South Africa. These are the places you want to get involved in and all the details you might need to get started. My information will be limited to Cape Town and Gauteng but should you know of any others please feel free to add to the comments below!
Football
Of course this blog would not be complete if it were not for the powerful force of football. And as a result that's the most appropriate place to start. Jabu has been playing football for years with a  team named the Cannons, a team that was influenced by Jabu and his brothers love for the Arsenal. They for a few years played at Old Bens in Benoni before moving to "Off the Wall Power-ball" at the Italian Club. This is the popular 5/6-a-side football that suits the average fitness person. Of course if you are looking for superb referees, stop looking, they don't exist, but if you are looking for a great time this is a well run league, along with these others:
Gauteng
Off the Wall Power-Ball
http://www.offthewallpower-ball.co.za
Nici
083 236 7765
nicib@inmail24.com
Edenvale Action Soccer
http://www.actionsoccersa.co.za
011 453 9400
info@actionsoccersa.co.za
Discovery Soccer Park
http://www.discoverysoccerpark.co.za
011 447 1198
info@discoverysoccerpark.co.za
Cape Town
Fives Futbol (Greenpoint, Waterfront and Sunningdale)
www.fivesfutbol.co.za
082 886 1358
info@5v5.co.za
Nationally
Interactive Sport Corporate Soccer Leagues
http://www.interactivesport.co.za
Thuli Ngwena
011 783 0721
thuli@interactivesport.co.za
Hockey
With the growing popularity of the game due to the outstanding performances of the two National teams in qualifying for the Olympics, social hockey has also seen a growth in interest. Jabu plays currently for his company in the corporate league in Pretoria and also for Benoni Northerns in the Easterns League. Of course the Easterns League is in a sorry state and as a result we will rather talk about where you can get involved!
Southern Gauteng Hockey
http://www.sgha.co.za
If you go on the website it will give you all the club contact details you could need. Give it a go and see from there. Otherwise you can call the head office at 011 791 7380
Northern Blues Hockey Association
http://www.northernshockey.co.za
Kokkie Sieling
082 823 2079
Western Province Hockey Union
http://www.wphockey.org.za
Roby Morgan
021 448 2656
manager@wphockey.org.za
Corporate Hockey League
Justin Brunni
Justin.Bruni@za.saabgroup.com
Cricket
Cricket is a game that can be infuriatingly slow at times. That was until T20 came along. I made a return to the oval this year with the brilliant Team Xtreme and have found myself loving a game that I forgot for so long. Last Man Stands is the way to go for outdoor cricket as it is 20 overs of 5 balls and is over in about 2 hours.
Last Man Stands T20
http://www.lastmanstands.com
joburg@lastmanstands.net
011 021 7775
westerncape@lastmanstands.net
082 453 4645
Rugby
Being brought up by a mother who wanted to protect me more than Gollum and his precious, rugby was something we watched but didn't play. Of course that all changed with the hugely popular touch rugby that is played all around these days. Moms can sleep easy knowing that their children are driving on dangerous roads to not get tackled.
In 2 Touch Leagues
http://www.touchrugby.co.za
Gauteng (Zoo Lake)
Trevor Leith
zoolake@touchrugby.co.za
011 467 2558
Cape Town
Niel de Beer
capetown@touchrugby.co.za
021 439 8646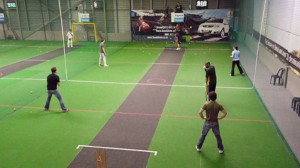 Action Sports
Of course when compiling a list of all the sporting opportunities for the amateur in South Africa, you cannot exclude Action Sports. I currently organise a big corporate action cricket and netball league in Sandton, but action sports do not limit you at those two. You can participate in any of cricket, soccer, hockey, netball and sandball (volleyball). Action Sports are located all around the country so to find out more just log on here:
http://www.actionsports.co.za/
0861  122 8466
info@actionsports.co.za
So that is my list. Did I leave any quality places out? Are there any gems we are not aware of? Share the love and let us know as we quest to make fat fit. Or something like that