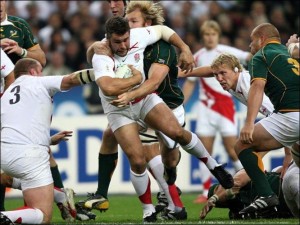 In just over two weeks South Africa embark on what can purely be seen as a pointless test series against the flowers from up North. As Heyneke Meyer has ventured a guess at bringing back Victor and Fourie, it may seem that he is stuck in the past and no one is really sure of who will be selected in the Springbok squad. With this revelation in hand, I decided to search the SA Web and ask the country's top rugby bloggers who they would pick. The directive was pretty clear, don't think like Heyneke, think like yourself and pick the team you would pick. The player with the most votes in each position will be the Bloggers Pick. I will forward this team to Mr Meyer for him to consider. So let me introduce you to the Panel:
Ben (Bounce) – The Bounce, SA's top Sports Blog in 2011 (twitter)
Sport Billy (SB) – Sport Billy, a member of Blogz on Ballz Radio (twitter)
Tank Lanning (FRG) – Front Row Grunt, a member of Blogz on Ballz Radio (twitter)
Ben Horwitz (BRB) – Bens Rugby Blog (twitter)
Kate Nokwe (KN) – In Track Suit, a finalist on lady rugga (twitter)
Jabu (ATJ) – Thats me (twitter)
Gareth Rosslee (GR) – Regarded by many as the top online SA Rugby guru (twitter)
I thought it would be interesting to see how they responded when I first told them my idea of this article. So in order to set the tone here is the highlights of what they said:
Bounce: I generally hate writing these sorts of things as the team I would like to see and the one that gets picked are never really the same. Added to that in the current context there are some major players out injured, so the job becomes more difficult.
SB: I'll pick a team that crucially fills the criteria of being able to be described by the Supersport commentary cliché brigade as a "good blend of youth and experience". I just hope they give 110% and are hungry for the win.
FRG: I am pretty sure Meyer is going to select overseas based players and given his penchant for the box kick, something that will form a big part of the Bok game plan, I think he will include Fourie du Preez, Frans Steyn and De Villiers at outside centre.  Thankfully he seems to be over bringing Matfield out of retirement.
BRB: I anticipate that the English approach will be that of a physical nature with the ball being given little air unless its off the boot. My Springbok side will be based on 2 sides. Aggression and Combinations.
KN: When I got the mail to do this, I thought nothing of it. It would be a 10 minute write-up and then I'd be done. I had no trouble doing this for Jabu in the World Cup. That was until I got to the centres/wings…
ATJ: I'm a Cheetahs Supporter so I logically looked at the challenge and saw that we have a bye the week before, I think this could see a few of my boys getting the nod over some others.
GR: You have to feel for Heyneke Meyer. He gets the Bok job, but then has to put together a team to face England in next to no time. Lack of time to prepare and ever mounting injury list are making it even tougher for him to prepare.
1. Beast Mtawawira (Sharks)
Bounce: Beast Mtawawira
SB: Beast Mtawawira
FRG: Beast Mtawawira
BRB: Beast Mtawawira
KN: Beast Mtawawira
ATJ: Coenie Oosthuizen
GR: Beast Mtawawira
ATJ: I thought with the Cheetahs having a bye the weekend before the first test that this was the perfect opportunity to give Coenie a chance to moer the poms.
BRB: If he can reproduce his form from the 2009 British and Irish Lions, he'll give the Boks a great platform at scrum time.
Bounce: Beast has come back brilliantly from injury and will always strike fear into the opposition. Always so valuable in open play too.
2. Bismarck du Plessis (Sharks)
Bounce: Bismarck du Plessis
SB: Bismarck du Plessis
FRG: Bismarck du Plessis
BRB: Bismarck du Plessis
KN: Bismarck du Plessis
ATJ: Bismarck du Plessis
GR: Bismarck du Plessis
BRB: Arguably the worlds best hooker, Bissie is set to make the Bok number 2 his own!
FRG: Adriaan Strauss and Chilliboy Ralepelle have been very good, but last Saturday really sealed the deal. Perhaps the best hooker in the world right now.  
3. Jannie du Plessis (Sharks)
Bounce: Jannie du Plessis
SB: Jannie du Plessis
FRG: Jannie du Plessis
BRB: Jannie du Plessis
KN: Jannie du Plessis
ATJ: Jannie du Plessis
GR: Pat Cilliers
GR: Cilliers ahead of Jannie du Plessis is a tough call, but one I'm happy to make as du Plessis often just seems he's there by default at tighthead. Cilliers is more than a jogging penalty machine I'd like to see him in a stronger set up.
Bounce: I wouldn't change too much with the front row going into this series and therefore persist with Jannie to partner his brother. Coenie will become a tight head in the near future which is something to watch for, but until then the good doctor gets my selection.
4. Eben Etzebeth (Stormers)
Bounce: Eben Etzebeth
SB: Eben Etzebeth
FRG: Eben Etzebeth
BRB: Eben Etzebeth
KN: Eben Etzebeth
ATJ: Eben Etzebeth
GR: Eben Etzebeth
SB: Etzebeth is the future of South African Rugby and for the enforcing duties he nudges ahead of the versatile Danie Russouw.
FRG: This selection might have raised a few eyebrows a few months ago, but now he would be one of my first selections. No brainer as the brawn to replace Bakkies. Incredible debut Super Rugby season.
ATJ: Many were worried about the departure of the enforcer Bakkies, but not many will be worried anymore. Etzebeth has emerged as the natural successor and has a blinding Super Rugby debut season.
5. Andries Bekker (Stormers)
Bounce: Andries Bekker
SB: Andries Bekker
FRG: Andries Bekker
BRB: Andries Bekker
KN: Juandre Kruger
ATJ: Andries Bekker
GR: Andries Bekker
KN: I do like Andries Bekker, but for me this season Juandre Kruger has been more impressive. And I'm not even saying that as a Bulls supporter.
BRB: The natural successor to Victor Matfield as the Boks lineout specialist, Bekker will now take over the mantle. His combination with Etzebeth has been as much a joy for the Stormers as it will be for the Boks.
6. Heinrich Brussow (Cheetahs)
Bounce: Heinrich Brussow
SB: Heinrich Brussow
FRG: Heinrich Brussow
BRB: Heinrich Brussow
KN: Heinrich Brussow
ATJ: Heinrich Brussow
GR: Heinrich Brussow
FRG: The Boks need to play a fetcher, and this man is right up there with McCaw and Pocock, with Hooper set to join the fray. Game changer and the first loose forward I would select in this side.
KN: Heinrich Brussow – No argument, making things very difficult for the likes of Keegan Daniel. 
7. Siya Kolisi (Stormers)
Bounce: Willem Alberts
SB: Marcel Coetzee
FRG: Jean Deysel
BRB: Willem Alberts
KN: Siya Kolisi
ATJ: Siya Kolisi
GR: Siya Kolisi
SB: Marcel Coetzee is one of the hardest working flankers in the game at the moment and I'm more than happy to admit some "man-love" for him.
GR: Kolisi has done enough in Super Rugby to prove to me that he will stand back for nobody. I had my reservations about players as young as them going in the deep-end, but I've seen enough and I'm looking forward to them both having long Springbok futures.
Bounce: Again, not many choices in this position and I'm not really happy with this selection, but it will have to do. Alberts has been nowhere this year, but he was a machine last year. Kolisi is still too young and his workload must be managed. He is too precious a quality to harm and throwing him into the deep right now would not be a good idea.
8. Pierre Spies (Bulls)
Bounce:  Josh Strauss
SB: Pierre Spies
FRG: Pierre Spies
BRB: Pierre Spies
KN: Pierre Spies
ATJ: Ashley Johnson
GR: CJ Stander
ATJ: Ashley Johnson has been an incredible force for the Cheetahs this year and along with Johan Goosen has done the most to push for a Springbok inclusion. I think Meyer will choose Spies, but I would give the Afro'd adventurer the go.
SB: It should be noted that if Schalk Burger, Juan Smith or even Duane Vermeulen were half fit, Spies would not be in my 22.
GR: I've gone for Stander ahead of Spies because I still havent gotten over the Ruck Inspector's 20 metre cross-field dash into touch against Australia at the Word Cup or his continual refusal to pitch up for the Boks.
9. Francois Hougaard (Bulls)
Bounce: Francois Hougaard
SB: Francois Hougaard
FRG: Francois Hougaard
BRB: Francois Hougaard
KN: Francois Hougaard
ATJ: Francois Hougaard
GR: Fourie du Preez
KN: For years Fourie du Preez dominated the scrummie position with Francois Hougaard a first-choice second. It is Hougaards chance now. Charl Macleod may be worth a thought but he hasn't done it for me yet. I think it would be nice to see Sarel Pretorius in Bok colours.
Bounce: No brainer, get him in there and get him becoming the next great Springbok flyhalf
GR: I've gone for du Preez ahead of Hougaard at 9, but know that it's not long before the new Bulls 9 must take over. I still make space for Hougaard in my side as I move him to the wing.
10. Morne Steyn (Bulls)
Bounce: Peter Grant
SB: Morne Steyn
FRG: Morne Steyn
BRB: Morne Steyn
KN: Morne Steyn
ATJ: Morne Steyn
GR: Morne Steyn
ATJ: I love Morne Steyn. His reliability for us has been truely phenomenal. But at last the teacher has a student worthy of mention. Johan Goosen is sensational and the Cheetahs will have to do a lot to make sure they hang on to their golden boy. His injury means the decision is easy.
BRB: With Johan Goosen injured and the Boks needing experience, Steyn is the man. He has been good for the Bulls this year and as always kicking is top-notch. His educated boot will dictate play and turn the English Pack around.
FRG: So incredibly reliable with the boot (yet worryingly, has had the odd game off this year), and key to the way Heyneke will play his rugby. Pat Lambie and Peter Grant would not let any Bok side down, but Steyn still the man for the game plan.
11. Bryan Habana (Stormers)
Bounce: Bryan Habana
SB: Bryan Habana
FRG: Bryan Habana
BRB: Lwazi Mvovo
KN: Bryan Habana
ATJ: Bryan Habana
GR: Bryan Habana
Bounce: Bryan has had his critics, I know, I have been one. But he is getting back to his best and that's saying something within a team that is coached by a guy who takes flair and puts it in the bin. In a good team structure Bryan is still a match winner, and his work ethic of late can only be inspiring for those around him.
FRG: Habana 2011 should have been dropped, but he wasn't. Habana 2012 is closing in on what made him an automatic selection for any team in the world. Gutsy, quick, hard worker. Lwazi Mvovo loses out.
12. Jean de Villiers (Captain) (Stormers)
Bounce: Jean de Villiers (c)
SB: Jean de Villiers (c)
FRG: Jean de Villiers (c)
BRB: Jean de Villiers
KN: Jean de Villiers
ATJ: Jean de Villiers (c)
GR: Frans Steyn
ATJ: There is no doubt in my mind that if everyone was fit and available the Springbok captain would be Juan Smith. That being said with the Cheetahs stalwart out, the other Jean is an easy choice as captain. A great servant and I hope he stays at inside centre rather than moving outside.
GR: De Villiers will be the leader in the back line now and his experience will be critical. With no Jaque Fourie, De Villiers will be entrusted to organise and orchestrate the back line on both attack and defence, a role he can cover no doubt.
13. Juan de Jongh (Stormers)
Bounce: Juan de Jongh
SB: Juan de Jongh
FRG: Juan de Jongh
BRB: Juan de Jongh
KN: Juan de Jongh
ATJ: Juan de Jongh
GR: JP Pietersen
GR: I've moved JP here to accommodate Francois Hougaard on the wing. He hasn't been much of a success at the Sharks, but I'd rather see him at 13 than de Villiers to be honest.
Bounce: With Jaque Fourie out of the picture it is now time for Juan to step up and make this position his own. He's more than talented enough to do so, so I reckon it happen naturally. 
14. Gio Aplon (Stormers)
Bounce:Gio Aplon
SB: JP Pietersen
FRG: Gio Aplon
BRB: Gio Aplon
KN: Gio Aplon
ATJ: Bjorn Basson
GR: Francois Hougaard
BRB: The pocket rocket is a true game breaker, which will be so valuable. He can be the catalyst in attack and his unpredictability is a major asset to any team.
FRG: And the size (and Stormer's haters) freaks go mental! But it is not as if the Stormers have lacked in defence this year … And this man is dynamite on attack, and perhaps more importantly, counter attack. Bjorn Basson a real option as well.
15. Joe Pietersen (Stormers)
Bounce: Joe Pietersen
SB: Pat Lambie
FRG: Joe Pietersen
BRB: Pat Lambie
KN: Joe Pietersen
ATJ: Joe Pietersen
GR: Pat Lambie
ATJ: This could be either Pat Lambie or Joe Pietersen, but at the end of the day the selection was based purely on who has played more at Fullback. In my interview with Brent Russell he agreed that Lambies best position was fullback, but the Sharks don't see it that way and his versatility will be great off the bench.
BRB: Lambie has been exceptional at 10 for the Sharks this year, and his form can easily be utilised at 15. His cool nature will assist under pressure whilst his boot can relieve a lot of pressure from the back. Best of all he can alternate with Steyn on attack to mix things up.
Bounce:He's all day solid in all areas. The Boks are never going to be a team with flash and flair so you need someone at the back who can tick all the boxes. So why not Pat Lambie you say then? Well I favour Joe as a better option to fill this role as one that offers better decision-making and naturally is a closer resemblance to Percy Montgomerie. Besides, Lambie should be seen as a flyhalf and a flyhalf alone in my book.
FRG: He has been a revelation for the Stormers this year, and the nickname "Klein Percy" should be seen as a huge compliment given how reliable Percy Montgomery became for the Boks.
Bench:
I collated the votes and looked at the spare votes above and here would be your Bloggers Bench.
Chilliboy Ralepelle (Just shades out Adrian Strauss)
Coenie Oosthuizen
Juandre Kruger
Willem Alberts
Charl Macleod (in ahead of Lwazi Mvovo due to the scrumhalf needed)
Pat Lambie
Robert Ebersohn
Have we missed someone out? What do you think of the teams below? Let us know!