A great comeback in sport is one of the finest things you can see in life, up there with the birth of a child, with finding the quickest moving queue, with putting on a freshly ironed shirt. Yes, so its up there with the great moments in life and very recently we watched one of the greatest ever comebacks in the 2012 Ryder Cup. The Europeans turned it around to lift the famous trophy and inspire many tweets of the "Greatest Comeback ever". I decided to do some research about the Greatest Sporting Comebacks™ and found some exceptional performances. Of course the inclusion in this list had to be from a personal point of performance rather than an opposition meltdown or a string of luck equivalent to playing roulette. Ultimately, of course Floyd Landis had to be excused for his Lance Armstrong  like performance in the Tour de France. So here is the list of the ATJ greatest comebacks.
Manchester United 2-1 Bayern Munich, Champions League Final, 26 May 1999
Manchester United entered the final without the services of captain Roy Keane and ginger Paul Scholes through suspension and were captained by goalkeeper Peter Schmeichel. After 6 minutes Rohnny Johnsen gave away a free kick that Mario Basler put Munich into the lead. It was a fragile lead, but a lead that would hold until the 91st minute. Sheringham and Solskjaer were brought on late in the second half and it was first the Englishman who equalised after a corner was not cleared by Bayern. Many sensed the game would go to extra time, but the comeback was complete after 92:17 when the Norweigan slotted home the winner that would break Bavarian hearts and lift Manchester fans into a frenzy.
Boston Red Sox 4-3 New York Yankees, American League Championship Series, 2004 
The Red Sox looked on course to be humiliated by their greatest rivals as they lost the first three games of the best-of-seven series, and trailing by a run in the ninth inning of game four it looked like it was all over for another year. But an amazing stolen base by Dave Roberts – one of the most famous in baseball history – helped him score a tying run. David Ortiz then smashed a home run for the Red Sox in extra innings to win the game, and the Boston side won the next three games in a row (thanks to another Ortiz home-run in extra innings) to make it to the World Series, where they went on to beat the St Louis Cardinals 4-0.
France 43 -31 New Zealand, Rugby World Cup Semi Final, 31 October 1999
In the pre-match build-up, New Zealand outside-half Andrew Mehrtens had described Les Bleus as "predictably unpredictable" and so they proved to be at Twickenham as France roused themselves into an astonishing second-half fightback. France, often with the ability to confound and mesmerise in equal measure, trailed 24-10 early in the second half and the tournament favourites looked comfortable, especially with Jonah Lomu – scorer of two tries – causing mayhem. But in 30 jaw-dropping minutes Christophe Lamaison, who ended the match with 28 points, scored a try, kicked two drop goals and two penalties to close the gap to 24-22. The tide had turned. And France, buoyant and displaying their trademark flair and skill, scored three more tries, including the now famous one by Christophe Dominici, to inflict a remarkable 43-31 defeat on Lomu and co
Liverpool *3-3 AC Milan, Champions League Final, 25 May 2005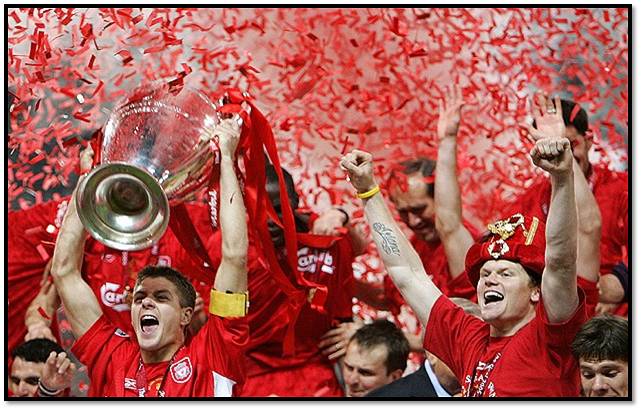 Liverpool trudged off the pitch at half-time trailing 3-0 and having to experience the ignominy of listening to jubilant Milan players celebrating in the other dressing room."Half-time offered us just 15 minutes to convince them that there was hope, however distant, that there was a chance, however slim," recalled the then Liverpool manager Rafael Benitez. The Spaniard brought on defensive midfielder Dietmar Hamann, allowing Steven Gerrard to rampage through the midfield, and 11 minutes into the second half the Merseysiders were level. Captain Gerrard headed John Arne Riise's cross for the first and Vladimir Smicer got the second with a low swerving shot which squeezed beyond goalkeeper Dida. Xabi Alonso equalised after the indomitable Gerrard earned the underdogs a penalty, and after 120 minutes the European Cup was to be decided by a nerve-jangling penalty shoot-out in Istanbul. Goalkeeper Jerzy Dudek's 'dance of distraction' – in honour of Bruce Grobbelaar's jelly-legged performance in the 1984 final – helped him save from Andrea Pirlo and Andriy Shevchenko. Liverpool secured the trophy for a fifth time and left Benitez admitting his team had won "when all seemed lost".
Stephen Hendry v Jimmy White, 1992 snooker World Championship final
Jimmy White, nicknamed the whirlwind and dubbed the people's champion, looked set to win his first world title after storming to a 14-8 lead at the Crucible. "Surely he's going to win it now," whispered BBC commentator Clive Everton to his audience when crowd favourite White was six frames ahead. But the ruthless Hendry, the sport's youngest world champion after his victory over White in the 1990 final, went on to secure 10 successive frames, including three centuries, to clinch his second world title.
South Africa beat Australia by 5 runs, 2nd test match, 2-6 January 1994
South Africa had not won a test match in Australia and started the second test in 1994 as if defeat were the only option succumbing to 169 after 7 wickets from Shane Warne. Michael Slater scored 92 to lead by 123 runs and have the lead in the game. South Africa again struggled to Warne as he took 5, but Jonty Rhodes scored 76 to leave Australia a meager target of 117 runs to win the test match. The task seemed easy with Australia 51-1. Fanie de Villiers and Allan Donald then produced a display of brilliant seam attack to whittle the wickets down and eventually Glen McGrath was caught and bowled by De Villiers to give South Africa a brilliant 5 run victory and a place in this esteemed list!
But the Greatest Sporting Comeback ever has to be:
South Africa 438/9 beat Australia 434/4, 5th ODI, 12th March 2006 
The tourists batted first in the ODI in Johannesburg, and looked to be on course for a crushing victory as Ricky Ponting's 164 from 105 balls saw them record 434-4 from their 50 overs, the highest score ever seen in a one-day innings. South Africa looked certain to capitulate when opener Hendrik Dippenaar was bowled for a single run, but Graeme Smith and Herschelle Gibbs then took the fight to the Aussies. Smith's 90 from 56 balls and Gibbs's 175 from 111 still left South Africa 135 runs short of their target, but the rest of the side all chipped in until Mark Boucher nailed the penultimate ball for four to win the match as South Africa made it to 438-9.