2013 saw a new addition to the International Hockey calendar, the Hockey India League, a league based roughly on the format of crickets IPL. International stars were purchased from across the world and the best hockey players on the globe assembled together in India for a month of top quality hockey. South Africa were well represented with three of our top players turning out in the HIL. Lloyd Norris Jones was picked up by Delhi Waveriders and was instrumental in their domination of the tournament. The Waveriders may have lost out in the final to the Ranchi Rhino's, but that didn't distract from the incredible tournament LNJ had. It is of course something us South African's are used to seeing as Lloyd has been a great asset to the National team in his 98 caps so far, going back to 2006.
On the eve of the World League Round 2, we chatted to Lloyd about his experience at HIL as well as the South African prospects in Rio.
All Things Jabu (ATJ): Hey Lloyd, first and foremost, after dominating the HIL were you upset by losing the final?
Lloyd Norris-Jones (LNJ): Hey Jabu, thanks for interviewing me. Most definitely, especially after having dominated the tournament from the start.  We only really played a bad second half in the final. To put it a bit more simply, there were no outrageous tactics from their side, we lost the game. They didn't necessarily win it.
ATJ: Did it hurt a bit more that all the other South Africans (Austin Smith and Justin Reid-Ross) were in the winning side?
LNJ: It hurt as much as losing the game. It didn't really matter who was on the other side but in saying that I was very happy for Austin and Justin.
ATJ: I'm sure you will be aiming for revenge next year! How do you think the HIL has help boost the profile of hockey? Firstly globally and secondly in SA?
LNJ: It's definitely playing its part in boosting the game worldwide. It was broadcast in 83 countries (ATJ – Supersport broadcast at least one game live everyday!) and had several TV shows from around the world coming over and interviewing the players. The tournament will only grow as each year passes and will hopefully take this sport into a new sphere.
ATJ: We definitely saw increased interest in South Africa while it was televised. How do you think it benefitted you to play in the HIL?
LNJ: When you play alongside an array of top class players from around the world, two of whom are Olympic gold medalists, you pick up some good info. So yes it has benefitted me and hopefully I'll be able to pass that info on in the national side.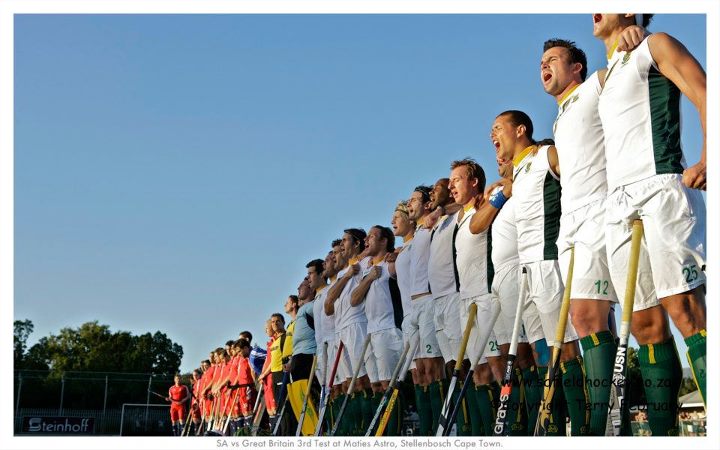 ATJ: Speaking of the national side, you have 98 Caps for South Africa; can you remember all of them? Which one stands out as a highlight?
LNJ: Haha, yes I can remember all 98 caps! They are all pretty special to me but the one's that have stood out the most are those Olympic caps from last year as well as my first cap at the World Cup in 2006 vs The Netherlands.
ATJ: And in those 98 caps you have scored some cracking goals for South Africa, any one of them your favourite?
LNJ: Haha, just doing my job! My first goal is one of my favourite goals but I'm not really that picky, as long as it goes over the line!
ATJ: Yup, we would be happy with you scoring a hat-trick of clumsy goals if it gave us the win! Having played at both, what is the major difference in terms of hockey, between the Commonwealth games and the Olympic Games?
LNJ: It's pretty simple, the Olympics has the best teams in the world. This includes the Germans, Dutch, Spanish and Koreans. It is the pinnacle of any sportsmans career, especially a hockey player. The Commonwealth Games are tough and a great spectacle, but you can't compare it with the Olympics.
ATJ: You played alongside the player of the tournament at the HIL, Sardar Singh, is he the best player you have played alongside?
LNJ: He is yes. It's a testament to the way he trains. Leading up to the tournament he stayed on the pitch once we had finished trainings and he continued to train his receiving in midfield and passing. He hardly loses the ball and just pulls strings in the midfield. Also a reason why we the foreigners for the Waveriders called him "Lord".
ATJ: If you could sign one of your national team mates to join you at Delhi next year, who would it be and why?
LNJ: That's a tough question. I wish "I" could sign several players, but I did try getting Rhett "The Hulk" Halkett (ATJ – The national captain for Rio) to come over to replace one of the Pakistani players when they left. Besides that, a guy like Tim Drummond would bulk up our midfield, which is needed.
ATJ: You scored 6 field goals in the HIL which put you fifth place on the scoring sheet. Did you try and wangle your way in to taking a few penalty corners to push your tally up higher?
LNJ: Haha, no I'm not a penalty corner specialist even though I claim at practices to be one. Those lucky guys get free shots at the top of the circle.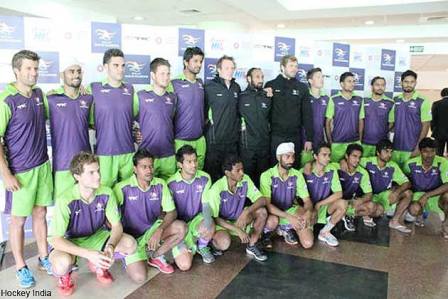 ATJ: And as the leading goal scorer currently for South Africa, do you feel under pressure to deliver for the National team?
LNJ: Not at all. It might say the goalscorers name on the scoresheet but it's a team effort to get the ball there and the strikers for SA, myself included, are lucky enough to have world class players in the midfield & defence.
ATJ: How are you feeling about the World League Round 2?
LNJ: Having just arrived here today, I'm rather excited. We have a new look side and some new coaches, which is fantastic. Just the thing the SA "Lads" Hockey side needed. We have been rather stagnant in the past few years, so a fresh coaching mindset, new structures and some good communication was needed to turn the corner. I feel we have the right people in the right places to take us forward.
ATJ: We look forward to reading all about it! Where can our readers find out more about you?
LNJ: I have a website; www.lloydnorrisjones.com which has all my info on it, plus some pictures as well as information about my hockey academies. Plus I'm on twitter quite often @LloydNJones, just taking pics when I'm on tour and general banter with friends, fans and fellow national players.
ATJ: Thanks very much!
Follow @TheLads_Hockey on twitter and stay up to date on all the happenings of the World League Round 2. The fixtures for the SA Lads are below:
Wed 27 Feb vs. Brazil (2 pm)
Thurs 28 Feb vs. USA (4 pm)
Sat 2 Mar vs. Trinidad & Tobago (4 pm)
Sun 3 Mar vs. Argentina (4 pm)
Tues 5 Mar vs. Chile (2 pm)