As you may have seen on All Things Jabu, we now have a page dedicated to the Unogwaja Challenge 2013. The reason for this is that I was so impressed and inspired by the story of the Unogwaja that I contacted John McInroy, the man behind the Unogwaja as well as Red Sock Friday, and asked to be involved in this year's challenge in some way.  John agreed and now I will be travelling with for a portion of the Unogwaja and giving you first hand details of the interaction I have with these inspiring athletes.
What is the Unogwaja Challenge you may ask, well it's pretty simple really. The Unogwaja challenge was initiated to follow the footsteps of Comrades legend Phil Masterton-Smith, who was affectionately known as "Unogwaja" which means the Hare in Zulu.
Phil Masterton-Smith was involved in two of the closest finishes in Comrades Marathon history, when in 1930 he narrowly lost to the great Wally Hayward. The following year in 1931, he battled against Noel Burree, and crossed the finish line meters ahead to claim Comrades Victory and become the youngest ever Comrades winner at the age of 19.
In 1933 Masterton-Smith couldn't afford the train fare from Cape Town to run the Comrades Marathon, so he cycled over 1700kms from Cape Town to Pietermaritzburg and finished in 10th position.
Tragically Phil Masterton-Smith was killed in action whilst serving for the Natal Carbineers on 5th June 1942 by a mortar bomb, defending the Gazala line during the siege of Tobruk in World War II.
With this epic journey just 83 days away now, I sat down with John and chatted to him about the revelation of red socks and of course the Unogwaja Challenge 2013.
Jabu (ATJ): Hey John, first off ShoOops, and thanks for taking the time to chat to me! So kicking straight off, what does ShoOops mean to you?
John McInroy (JM): ShoOops!!! Just say it out loud and you will discover its meaning! It's infectious! I have never come across anything quite like it before. It has no official meaning, yet it is "understood" by people all over the world! For me, it screams out "follow your heart!", "go for it!", "shoOops!"
ATJ: I love that. The growth in Red Sock Friday is getting epic, what is the secret behind the success for you?
JM: Thank you! I don't see it as a success/failure thing. It's something special. It's something real. And as long as it remains that way I am happy and I know it's "destiny" will look after itself! And ya, something is in the air of late, red sock runs have been breaking out all over South Africa and other parts of the world, we have been inundated with shoOops! Orders which has been so awesome! The dream of covering the world map in red socks may just come true! We have already sold/distributed socks in over 50 different countries and a couple weeks ago we had our first evidence of shoOops in Antarctica which made it all 7 continents now!
ATJ: Let's move onto Unogwaja now. The 2013 Challenge is the first staging of the Challenge to invite the public to be involved, what made you open up Unogwaja 13 to more people this year?
JM: Since the outset, "major" decisions have looked after themselves. It has been a very natural evolution and now was the right time to move it to a public event for the first time in our history. It's an incredible journey, one that needs to be shared with more people in South Africa and around the world. From the moment I came across Masterton-Smiths story I felt as though "it was written" to follow this path, and enable his special legacy to live on.
ATJ: Considering the distance covered and the mode of transport, as well as ending with the Comrades Marathon, is the Unogwaja the toughest thing you have ever done?
JM: Shoh, that's a hard question! Toughness is a word difficult to associate with Unogwaja because of the amount of fun that we have and the sheer pleasure from being out on the road travelling across our beautiful country with special people.  But, it definitely isn't a walk in the park at all! To the contrary, I can vividly remember moments in Unogwaja 2011 in particular, when I felt like there was nothing left in me. At that point I had only just started cycling and it was very much a leap of faith into the complete unknown. But what that taught me was when there appears to be no hope at all, this is the time to hang on the most because this usually meant you are close to achieving something special. I think the sense of team and togetherness makes something that would ordinarily be really tough become a whole lot more attainable and enjoyable. This is what makes Unogwaja truly special. When looking at the route map and total altitude gain for the journey I may have to re-think my answer! It's more than 2 Everests of climbing!
Recently I attempted a 100mile trail run in Wilderness called the Boob Run. I didn't come close to finishing but giving it a go, involving trail running/hiking through the night, was a massive eye opener and certainly tested my resolve and pushed a few barriers for me! Witnessing 4 out of 44 people complete the full 160km on their feet for 34hours straight, one of whom being one of this year's Unogwaja's Andrew King, merely broadened my realm of possibility. I cannot wait to go back and do the Boob Run next year!
ATJ: I love the sentiment attached already! How did you select the team, was there a specific characteristic you were looking for?
JM: Without any formal marketing we received 27 entries from all over South Africa and from around the world. We formed a committee of 5 people and between us thoroughly went through each application followed  by individual skype interviews. It was by no means a perfect science, and there is no doubt some very special people left out but we tried to choose the people who embodied the spirit of Unogwaja . What does that mean? Be part of one Unogwaja and you will find out, but it's to do with a person who is willing to put their teammates before themselves , who can make "light" out of potentially difficult times and has a burning passion inside them to be part of Unogwaja yet a balanced approach to life!
ATJ: In more familiar language, do they have the shoOops?!
JM: If I had to use one real word to describe people taking part in Unogwaja (on the bike and in the support crew) it would be one of these – ENTHUSIASM! Or PASSION! Or ENERGY! Or HEART!
ATJ: What is it about Phil Masterton-Smith that made you want to emulate him so badly?
JM: This is simple. It was as though "it were written" that I follow his path. This man had the "gees" and determination coupled with the dogged, almost crazy belief that he could cycle from Cape Town to Pietermaritzburg in 1933 (Imagine the roads, his bike, how did he even attempt this back then?!) to take part in a running race. I mean this must be a special race if a man would go to those lengths? Discovering this was truly inspirational but it was when I discovered he lost his life in the Second World War that I truly knew it was meant for me. (Thank you WP van Zyl for bringing this wonderful story into my life)
The story of the red socks began with honouring fallen soldiers and friends, and has become something I, and hopefully many others associate with following your heart. Following my heart, meant attempting this journey and seeing where it went, even if at the time it really did seem like a very distant reality to many. Phil Masterton-Smith's legacy just had to live on and his life could be a constant reminder to anyone who came across it, that truly anything is possible if we invest our hearts. The Unogwaja Challenge was born! "Unogwaja" meaning hare in Zulu was a nickname given to Phil Masterton-Smith by the locals in Kwa Zulu Natal as they say he resembled a hare when he moved across the mountains.
Incredibly, much later I discovered that Sidney Feinson, the original red socker from Port Elizabeth got captured in the Battle of Tobruk, and taken to an Italian Prisoner of War camp where he made this red sock pact with two close friends. Masterton-Smith lost his life at The Battle of Tobruk on 5th June 1942. I get goosebumps when I think about this.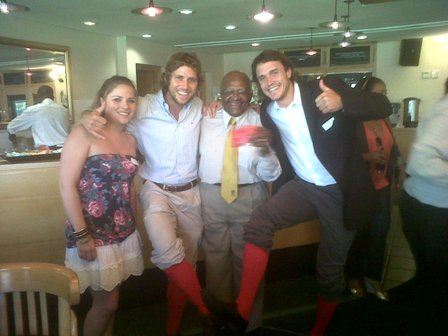 ATJ: It is something that has touched my life and for sharing his message, I say thank you. If you could leave one message to children today, what would it be?
JM: "What you do in life, echoes in eternity" Phil Masterton-Smith's life shows us that your life can have meaning and inspiration long after it's over. Imagine Phil looking down at us all, seeing what has been started in his honour! Whenever I think of Unogwaja I think of two powerful quotes that I try and live by:
"Wherever you go, go with your heart"
"A journey of 1,000miles begins with a single step"
Follow your heart, because when you do special things happen, and you won't even think about how far the journey is you just know you have to take that first step!
ATJ: With the awesome message and story behind Unogwaja, many people would love to get involved. How can the public get involved with Unogwaja?
JM: There are various ways to get involved. We are all committed to raising funds for the 6 Official Comrades Marathon charities known as the Amabeadibeadi Charties. Each Unogwaja has been allocated a charity to work with and raise funds for! It is my dream for the Unogwaja one day to raise over R1million in a calendar year!
I am supporting The Pink Drive which you can read more about and donate towards via my profile on the Unogwaja Challenge website. Every little bit helps! The easiest way to support is to sms the following to 42030: Race 666 (& then your personal message & name) which will appear on my personal Race4Charity page
We will also be opening up the day 1 cycle to Franschoek to about 100-150 people! We will be announcing the registration procedure for this shortly and will charge R200 donation to the Unogwaja Charities which will give you a pair of red socks, some cycle foods and drinks as well as breakfast/brunch provided for my Tsogo Sun Southern Sun Waterfront on arrival in Franschoek!
The general public has literally been an extra team member for us over the last couple years! Every tweet (@TheUnogwaja), every Youtube view and Facebook post, photo, like, comment gets back to the team and gives us energy to keep going!!
ATJ: And any adventure like this will take a great deal of sponsorship, are there any sponsors you would like to thank?
JM: All of them who have been part of this journey. It wouldn't be possible without them. But there are a few people to single out. Noelene from The Pink Drive did so much to enable the first ever Unogwaja to happen. Sponsors like 32Gi, KTM Bikes/ Cycle Lab, New Balance, Spur, Nandos & Oakley have stuck by us from the outset.
Would also like to thank Avis, albeit no longer part of the journey, for the significant role they have played in this event up until now. More recently, Jeff & his team at Tsogo Sun Southern Sun Waterfront have gone over and above the call of duty and most recently we have formed a special relationship with the Thorp Family at Thorp Motor Group, A General Motors dealership in Western Cape.
Special people seem to gravitate towards this event. People like Francois Pienaar, Graeme Smith and Premier Helen Zille have played a special part. We started a tradition last year where Premier Zille writes a message of hope for which the team carries to Maritzburg to hand over to the Premier of Kwa Zulu Natal. This year the Premier will be doing this and a whole lot more with the team, and who knows you may even see her donning her shoOops and joining us on the ride to Franschoek. Blessed!
ATJ: Thanks so much John and ShoOops!
Check the video below of when Francois Pienaar stopped in to wish the Unogwaja 2012 team good luck!