The Laureus Sports Awards are essentially the sporting equivalent of the Academy Awards. They have been around for 14 years now and are the only awards that pit the best of every sport against each other. The awards are always of great interest to South Africans as we have a fair amount of involvement in them. We have had 6 different recipients of the Laureus Awards over the years and once again this year we had an interest in the Awards with Ernie Els up for comeback of the year.
Sportsman of the Year
Previous Winners
2012: Novak Djokovic
2011: Rafa Nadal
2010: Usain Bolt
2013 Nominees
Bradley Wiggens (Cycling), Michael Phelps (Swimming), Mo Farrah (Athletics), Usain Bolt (Athletics), Lionel Messi (Football) and Sebastien Vettel (Formula 1)
2013 Winner
Usain Bolt
The Jamaican sensation was always going to be the favourite in an Olympic year, but this was more likely from the moment he arrived in London. With his ordinary swagger, Bolt preceded to defend his 100m, 200m and relay crown with a sense of style that underlines his brilliance. This is also Bolt's third Laureus award to put him one behind Roger Federer in the overall standings.
Sportswoman of the Year
Previous Winners
2012: Vivian Cheruiyot
2011: Lindsay Vonn
2010: Serena Williams
2013 Nominees
Allyson Felix (Athletics), Lindsay Vonn (Skiing), Serena Williams (Tennis), Jessica Ennis (Athletics), Shelley-Anne Fraser-Pryce (Athletics) and Missy Franklin (Swimming)
2013 Winner
Jessica Ennis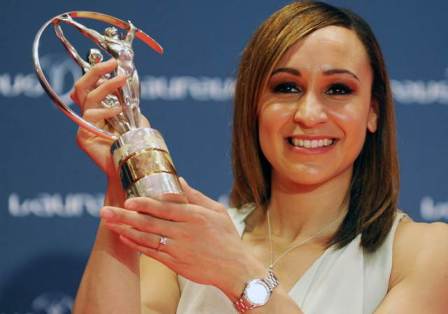 Not only is Jessica incredibly easy on the eye, but she is also an incredible athlete. In a year when Serena Williams was dominant, to win this award tells of her domination in the heptathlon at the London Olympics. With all the pressure of the home crowds on her, Jessica excelled and won her multi-discipline event with great ease!
Breakthrough of the Year
Previous Winners
2012: Rory McIlroy
2011: Martin Kaymer
2010: Jenson Button
2013 Nominees
Andy Murray (Tennis), Neymar (Football), Yannick Agnel (Swimming), Gabby Douglas (Athletics), Ye Shiwen (Swimming) and Kirani James (Athletics)
2013 Winner
Andy Murray
Andy may be a ginger, he may also be British, but there is no doubt that he has closed the gap on the big 2 & occasional 3 in world tennis. His 2012 year was underlined by heartbreak at Wimbeldon, before winning a gold medal in the same stadium at the London games. The big break however came when the Brit (or Scot when he loses!) won his first Grand Slam with an epic US Open victory.
Comeback of the Year
Previous Winners
2012: Darren Clarke
2011: Valentino Rossi
2010: Kim Clijsters
2013 Nominees
Ernie Els (Golf), Anna Meares (Cycling), European Ryder Cup Team (Golf), Felix Sanchez (Athletics), German Mens 8 (Rowing) and Tirunesh Dibaba (Athletics)
2013 Winner
Felix Sanchez
In my completely biased opinion, Ernie Els deserved to win this more. He won a major 10 years after his last one, in a sport that could be won by any of the 140-odd starters. Instead the academy decided to award it to Sanchez who won the 400 metre hurdles at the London Games an epic 8 years after his last gold. At a time when younger runners are getting faster, it is exciting when an older professionals win.
Action Sportsperson of the Year
Previous Winners
2012: Kelly Slater
2011: Kelly Slater
2010: Stephanie Gilmore
2013 Nominees
Felix Baumgartner (Adventure), Joel Parkinson (Surfing), Jamie Bestwick (BMX), Julie Bresset (Mountain Biking), Stephanie Gilmore (Surfing) and Phillip Koster (Windsurfing)
2013 Winner
Felix Baumgartner
The surfing strangelhold on this category has finally been broken with the Adventure sport star Felix Baumgartner won this years award. It is hard to deny him the trophy as all people around the world marvelled at his incredible jump from near enough the moon to see the curvature of our planet. It has become a theme for many an inspirational video and quite possibly the standout memory of 2012.
Sportsperson with a disability of the Year
Previous Winners
2012: Oscar Pistorius
2011: Verena Bentele
2010: Natalie du Toit
2013 Nominees
Alan Oliveira (Athletics), David Weir (Wheelchair racing), Patrick Anderson (Basketball), Johanna Benson (Athletics), Alex Zanardi (Cycling) and Daniel Dias (Swimming)
2013 Winner
Daniel Dias
The Brazilian paralympic swimmer is the fifth out of six awards to go to someone who excelled at the Olympics. He won the award for the second time in his life after winning it in 2009 and after his 6 gold medal haul at London 2012. The more remarkable thing is that he won each with a new world record.
Sports Team of the Year
Previous Winners
2012: FC Barcelona
2011: Spain National Football
2010: Brawn Formula One
2013 Nominees
China (Table Tennis), Red Bull (Formula One), Europe (Ryder Cup), Miami Heat (Basketball), Spain (Football) and United States (Basketball)
2013 Winner
European Ryder Cup Team
I have written before about the brilliance of the European Ryder Cup team and it is probably the award I am happiest about. The European Ryder Cup team captivated the attention of the World this year with one of the greatest comebacks in sporting history and the scale of their achievement led to them getting two Laureus nominations.
Lifetime Achievement Award
Previous Winners
2012: Sir Bobby Charlton
2011: Zinedine Zidane
2010: Nawal El Moutawakel
2013 Winner
Sebastien Coe
After five other awards being won by competitors at the London Games, it was always going to be a case of the organiser being recognised. And rightly so. The London games were a spectacle worth watching and Lord Coe deserves all the credit that comes his way.
Laureus Academy Exceptional Achievement Award
2013 Winner
Michael Phelps
Well he is just that good. He won an award that had never existed in the past, but the incredible swimmer deserves all the plaudits that come his way. He has now retired to make way for Chad le Clos to dominate, but will still be a constant in the news as he travels the world training juniors on how to emulate him!