"The greater the obstacle, the greater the glory in overcoming it" – Moliere
On Saturday morning, the All Things Jabu Red Sockers took on the IMPI Challenge, a Challenge whose ethos is unrivaled by any other in South Africa. Van Gaalens Cheese farm played host to the Annual IMPI Challenge where a total of 3000 people took on the grueling course on Saturday and Sunday. I of course was accompanied by my team mates as we headed out to start at 10:45.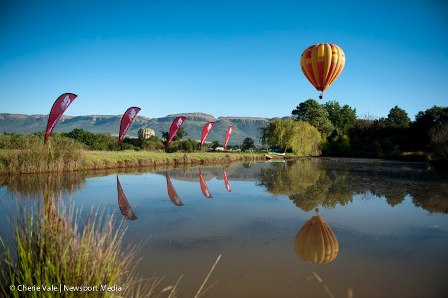 From the get go it was evident that the IMPI Challenge is a challenge that promotes teamwork over winning, completion over racing and friendship over everything else. The obstacles were such that many left you requiring a foot up, a lift, a push, a shove or just some stern encouragement as you climbed, ran, crawled, jumped and swam your way through the 12km course.
Having recently completed the Warrior Race #1 and #2, I had a small amount of experience in taking on my first IMPI Challenge. What I was met with, was a rewarding, refreshing challenge that was both aesthetically pleasing and physically challenging. The obstacles encountered including crawling through mud, climbing over the spider web, leaping off an 8-metre platform into the river on the farm and the long and tight snakes pit crawl.
In between each obstacle was a scenic and enjoyable trail run that challenged your balance, your endurance and your ability to run on exceptionally slippery mud. But the most important part of the Challenge is the camaraderie along the way. When our team mate B fell and sprained his ankle, the team waited, encouraged and helped him to try his best to continue. This was the same that we saw with other competitors who had succumbed to similar injuries. None were abandoned by their teams, none were left to fend for themselves. And that camaraderie extends to further than the bonds of ones own team, as I remember on the spider web, a lady who was terrified of heights made it to the top and could not convince herself to make the final leap over the top. A random team member from a different team proceeded to climb up the net to encourage her.
One of my favourite things about the IMPI Challenge is that upon completion you dont get a medal. I have medals in a box underneath my bed. They go to waste. Instead once you complete the race, you get a photo taken with you and your team mates and a copy is printed for you immediately. This is a much better memory for me and one that I will proudly put up on my shelf at home.
I want to thank my team mates, no no no, that's not right. I want to thank my friends for taking this challenge with me and helping me enjoy the day more than I thought possible. Thank you Cath, B, Tyler, Chanille, Marc, Belinda, Kobus, Darryl and Tarryn. Lets do it again, how about soon?
Of course, I could write about all the good of IMPI for hours, from collecting used shoes to the support of the various charities. I could write about the festival, the vibe, the merchandise or more. I could write about New Balance, Spur and Vit T go, but at this point I think leaving you with a few pictures would do more justice. And remember:
If it doesn't challenge you, it doesn't change you.
To find out more about the IMPI Challenge follow them on Twitter (@ImpiChallenge) on Facebook (Impi Challenge and Festival) or check out http://www.impichallenge.co.za