The Super Rugby drought is nearly at an end with 10 days left until the start of the 2014 season. With the new season about to start, fans will get an opportunity to get one up on other fans and hearts will once again be worn on sleeves. As there are many emotions attached to supporting a team, I thought the best preview would be getting a supporter of each SA team to answer a few questions. Here is the panel:
Ami Kapilevich – Cheetahs – @Biobot (AK)
Former Editor of Sports Illustrated, the greatest sports magazine to go missing.
Jacques Henning – Bulls – @TheYellowCap (JH)
The man behind the Yellow Cap, the SA Blog Awards Sports blog of the Year 2013
Froners – Stormers – @Froners (F)
The third member of the Pundits SA trio, importantly a Gooner too!
Chase Carneson – Lions – @ChaseCarneson (CC)
The King of Selfies, but also a sports producer for ETV Sunrise show.
Jessica Bentley – Sharks – @JessBentley64 (JB)
The owner of one of the few SA Hockey replica kits, sport fanatic and the rose among the thorns here.
Okay, head on the block, where will your team finish in the SA Conference and why?
AK: Fourth. You can't lose a player with the experience and leadership of Robert Ebersohn without serious repercussions.
JB: The Sharks are going to finish 1st this year, because, two words: its about bloody time. Ok, that's more than two words.
F: Not 1st. Why? Because history, nature, fixture lists, injuries, defensive mind-set, little bit of a wing niggle, depth in key positions and did I mention the fixture list will be against them… If they're lucky a sneaky 2nd position is up for grabs, but more than likely they'll end 3rd.
CC: I think The Lions will avoid relegation and finish 3rd. That is if the Kings don't swing past SARU for lunch and try and arrange another dodge move
JH: Second in the SA Conference.
Which other South African team will be your biggest opposition?
AK: Bulls, as usual.
F: The Cheetahs, Sharks and Bulls…… did I forget someone?
JB: The Stormers, I mean, Western Province, no. What their names again?
CC: The Stormers have notoriously been hugely difficult to beat, probably because they have quite a few ex Lions guys in the squad
JH: Sharks I think, only because Jake White really knows his rugby. If not Sharks it will then be Stormers, but they have many injury worries.
Okay, honestly, what do you think of your new kits?
AK: If you stare at it for long enough you see a 3-D image of Kennedy Tsimba.
JB: Honestly? Looking at this years' kits, they are the best pick of the bunch. Loving the new BLK interpretation of a traditional black and white strip.
F: You ask about the kits but what you don't ask is why? Unconfirmed reports seem to indicate that the executive management of the SA Rugby franchises came together and in a bold attempt to draw attention away from the Lion King saga opted to employ a strategy so bold that it involved camouflage and thunder related tactics. The Cheetahs did not get the memo as internet connectivity isn't what it's supposed to be in Bloem and the Sharks' jersey is not yet finalised as John Smit is in the process of finalising 47 additional sponsors after which their kit would look similar to that of the McLaren F1 racing team's. All this is pure speculation. More importantly, would I urge anyone to buy the 2014 kits? Well if you're a Lions fan then yes… The jersey in your closet is two years old.
CC: Emotions aside the Lions have a very smooth clean kit (If you minus the glaring issue of a missing a main sponsor) Stormers coming in a close second on the Super Fashion Radar. (Stripes are so 2013)
JH: Having seen the other teams kits I think the Bulls' kit is very innovative and original in design and not half as boring as most of the other teams.
And which team has the worst kit?
AK: The Bulls kit is a bit embarrassing this year.
JB: Where to start? Would say the Bulls definitely have the worse kit. Last year they got ragged for being pretty-in-pink. Maybe this year they are trying to be more manly with the camo?
F: #InvisiBulls
CC: Pretty sure we would all agree on the camo from the Bulls. Actually who the hell is designing their kits. First Pink (cerise) and now Camo #InvisiBull #InvisiTitle
JH: The most shocking to me is The Toyota Cheetahs and most boring is the Lions.
Who is going to be your Franchises' Most Valuable Player in 2014 and why?
AK: Tough choice between Willie le Roux, Adriaan Strauss and Johan Goosen. I'm going to go with Adriaan Strauss because he provides the platform for the others to work their magic.
JB: Definitely The Referee. Because we always get the worst pick of the bunch. The Sharks also have plenty depth in the side so even if someone gets injured, there's ample talent and experience to fill in.
F: Demetri Catrakilis… If you need a reason then I'm pretty sure you haven't watched a Stormers game in a while. You see, while all the other unions try to employ a more fluent running game (of late) the Stormers tend to be more defensively inclined. Demetri happens to have a decent tackle and he's been known to be rather consistent with the boot.
CC: Jaco Kriel proved last year that in order for the Lions to play the kind of exciting running rugby they play, they will need the forward to get on the front foot. Both defensively and on attack Kriel has proved more than up to the challenge and I think he will be key in loose play, which if I'm honest is the Lions best aspect of their game
JH: Wow, this is difficult, but I am gonna put my money on Francois Hougaard at number 9, not on the wing! He has been out of the game for too long and is so hungry to play and also to get back into the Bok team. If he can get his old game back that he played until the 2011 RWC he will be unstoppabull!
And which youngster is going to impress the South African Public?
AK: Lood de Jager is awesome, and keep an eye out for Oupa Mohoje – two brilliant prospects.
JB: PSDT ( Pieter-Steph du Toit) excited to see his talent grow this season!
F: Jaco Kriel. Lions loose forward who clearly does not understand the term "beaten" or "no". I also expect that after his brilliant break-through season he will sign for the Sharks where he will be found on a bench and later at an airport on the way to Japan.
CC: To be honest I'm not earmarking anyone in particular, I just can't wait to see who steps up.
Jh: I reckon Jesse Kriel might just be a revelation, but I think this might just be Pieter-Steph du Toit's year!
Which game are you most looking forward to?
AK: As perennial giant slayers, we've beaten the Blues and Crusaders when they were at their strongest. So bring on the Chiefs.
JB: Got to love a home game vs The Bulls…but who knows if they will even pitch? And if they do, who knows if we will see them pitching?
F: Sharks v Brumbies… Obviously
CC: The final when the Lions take on whoever else has made it through
JH: I think Friday 15 February at 19h10 between the Sharks and Bulls will be a massive game to setup this year's Super Rugby tournament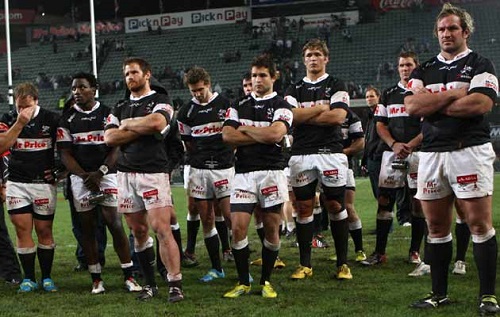 Why will your team disappoint this year?
AK: Lack of depth is always a problem; suddenly Johann Sadie is the centre pairing senior. So depth and inexperience are serious issues. And don't get me started on defence…
JB: They will disappoint if they make another final and don't put it in the bag
F: Narrow losses and a too big a margin to catch up once they play more regularly at Newlands.
CC: If the Lions let their heads get the better of them they will fall back on the poor Super Record from the past. It's all about mental toughness and I think this squad should cause a few upsets
JH: Only because they lack MEGA experience since the major exodus of Bulls players in 2013.
Who is the best player from your team to follow on Twitter?
AK: Let's be honest here: sports players tweet the most inane, platitudinous bullshit. I don't follow very many of them.
JB: Our boys are pretty quiet on twitter compared to most other teams (don't even know if our front row knows what twitter is). But our young guys like Heimar Williams and Cobus Reinach are good from time to time. And JP Pietersen is a good source of entertainment from Japan.
F: Juan de Jongh because even though he might be perceived as an over confident and arrogant by many people in the twitterverse there's one thing Mr de Jongh is likely to do… He'll either respond to your tweet and if you're lucky, he'll even send you a little DM saying thank you. You can say a lot about this man but one thing is certain, he loves the fans just as much as they love him.
CC: None, my guys don't use twitter cause they're too busy training and being rugby players, instead of tweeting at half time
JH: It is definitely Francois Hougaard and his twitter handle is @Francoishougi
If you could borrow a player from the other SA Teams for your team, who would you borrow?
AK: Any of the tighthead props the Sharks keep stealing from us. Du Plessis, Adriaanse, I'm not fussy.
JB: Probably someone like Eben Etzabeth. He would combine well with the physicality of Deysel and Alberts.
F: Johan Goosen
CC: Willie Le Roux. Class for days in almost any position in the backline
JH: Um, it will be Willie le Roux!!
Who is going to be the best player this season that is not chosen by Heyneke Meyer?
AK: Philip van der Walt – he's the best 8th man in the country.
JB: Keegan Daniel and Louis Ludik. Both quality guys that have never been given a proper run in green and gold.
F: Jaco Kriel
CC: Derrick Minnie, for the life of me can't understand why he didn't get a shot in the Green & Gold on tour last year.
JH: Sad to say it will be Pieter-Steph du Toit
What is your fitness rule for Super Rugby fatigue?
AK: Drink more beer until the fatigue passes.
JB: Your team is only as strong as its weakest link. Rest and recovery is crucial part of Super Rugby. Always.
F: There's a very careful balance between over rotation and perfection. No player should play for more than 8 consecutive weeks/games, especially not forwards.
CC: Lots of Beer
JH: If you get tired just lie on the couch!
10 days to go! Super Rugby is gonna be back!