The first round of fixtures of the 2014 FIFA World Cup have now passed and have given us a fair bit of excitement, goals, controversy and general all round awesomeness! 49 goals, 1 hat-trick, 3 red cards, only 6 clean sheets and only one African victory, here is our recap of the first round of fixtures.
Goal of the Round – Robin van Persie (1) vs. Spain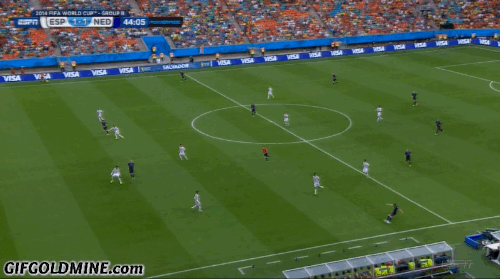 This is a tough one as Joel Campbell's goal against Uruguay was a brilliant team goal, Clint Dempsey's slalom run was mesmerising and Lionel Messi scored a superb solo goal. But while all of those were great, the goal by Robin van Persie with a diving header against the World Champions Spain was a goal of pure class and a goal that few words would do justice to.
Player of the Round – Thomas Müller (Germany)
Arjen Robben and Joel Campbell ran this close for me, but Thomas Müller was the star of the show for Germany. He has now scored 8 World Cup goals in his career and hit his 20th goal in his 50th cap against Portugal. His goals were not World class or anything, but his persistent hassling and positioning made him a thorn in the side of Portugal. Don't be surprised if he is the golden boot winner again at this World Cup!
Controversy of the Round – Mexico second offside goal
The first offside goal was a ridiculously tight call that you can forgive the linesman for, the second was as atrocious a call as Ive seen. It almost appeared that the linesman and ref were so scared to make incorrect calls that they overly erred and made an atrocious one. Fortunately Mexico got the goal they deserved and in the end the error did not cost them, but if they fail to progress on goal difference then it could still be the biggest poor call of the tournament.
Nimwit of the Round – Pepe (Portugal)
I am not condoning the over reaction of Müller in the build up, but Pepe is not a smart man. His reputation for being a hot head and losing his cool came to the fore once again as he let his team mates and his country down with a display as childish as you can expect from the Real Madrid man. Portugal may be better off with him not playing in the next games.
Team of the Round – Netherlands
Few had given Netherlands a chance of beating Spain, even less had given them the chance of annihilating Spain. But annihilate is exactly what they did. After Spain received a dodgy penalty from a Diego Costa tumble, Holland produced a masterclass in ruthless football. Robin and Robben robbed the Spanish of their dignity and made one of the best keepers in the world, Iker Casillas, look like a Sunday League amateur. Their odds have also been dramatically cut on potential winners after that display.
Upset of the Round – Costa Rica 3-1 Uruguay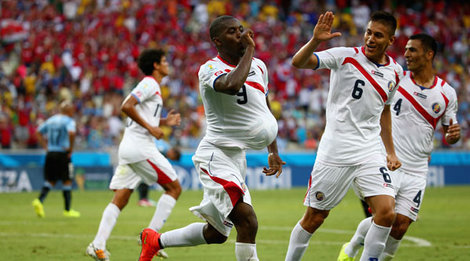 Uruguay won the FIFA World Cup the last time it was hosted in Brazil and as reigning South American champions had been tipped as a definite dark horse for winning the cup. They of course were also strongly tipped to run away with a group that also features England and Italy. But on the day they met a Joel Campbell inspired Costa Rica in a display so brazen that even England and Italy would have been stunned. Costa Rica were expected to complete the numbers, but now are competing for points. It makes the World Cup a lot more exciting. Uruguay on the other hand face elimination if they don't beat England on Thursday.
Match of the Round – England 1-2 Italy
England and Italy were poised to offer up a tense, turgid affair, but instead offered a neutrals dream match as they produced what can safely be said is the game of the tournament so far. The match produced 30 shots at goal at a frenetic pace. England can feel hard done by on being the wrong side of the defeat as both sides produced some sublime football. The three goals were also all quality, one strike from range and the other two both from fantastic crosses. If ever a team could be proud of their performance in defeat, it was England. Italy on the other hand are well poised now to progress to the latter stages.
What were your stand out moments from Round 1 of the 2014 FIFA World Cup. Let us know on Twitter