The RAM Slam T20 was launched at a rainy evening last night at the Beach in Braamfontein. Along with launching the #GetCaughtRedHanded initiative as well as confirming three triple headers, there was mention of a few overseas players. Haroon Lorgat confirmed that Sangakarra was a nearly while rumours around Kevin Pietersen wont go away. It got me thinking, who of the current players would we love to see feature as overseas pro's in this years RAM Slam. I have obviously left out Chris Gayle and Shahid Afridi as they were both promised to us in the past before not pitching. Instead here are the five I would love to see
Virat Kohli – India
The Indian hitter is currently the topped ranked batsmen in World T20. He has an incredible T20 average of 46.28 and scores at a strike rate of 130.6. He has also punched away 9 half centuries in just 26 innings. His domestic T20 form is also great and has seen him score 29 half centuries. The thing about Virat Kohli is he just keeps getting better. He is also known to sing and dance and even impersonate Irshant Sharma, already making him a winner in our books! He also scored a test ton in South Africa already which means he wouldnt struggle on our pitches. I would love him to join the Titans!
David Warner – Australia
Cricket needs characters and David Warner, although not everyone's cup of tea, is most definitely a character. Also the English players seem to hate him and that already moves him up in my books. He also has got into an "unprovoked" fight with Joe Root from the English side and that will surely be enough reason for him to join the Knights in Bloemfontein. Plus his spelling is simply atrocious on twitter which means at some point he will call someone an inappropriate name.
Dwayne Bravo – West Indies
We have a bit of a love affair with all-rounders in South Africa and Dwayne is one of the better ones. He has now played over 200 T20 games around the globe and is still considered a prized asset. He will be good for a quick 20 or 30 and also reliable to bowl four overs and maybe steal a couple of wickets. He has also won the Champions League and the IPL so will bring with him a knowledge of what it takes to win. Something a few teams in SA could do with.
James Anderson – England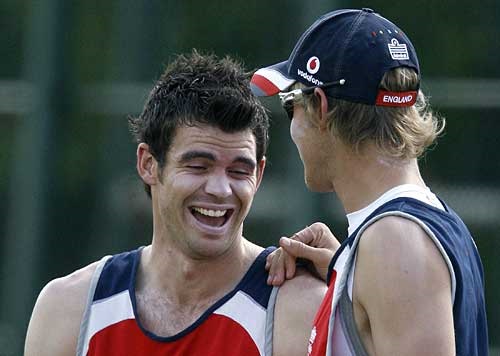 Because then even the English would be forced to admit that Dale Steyn is far superior in EVERY form of the game
Brendan Taylor – Zimbabwe
Our not so noisy neighbours have produced some fine cricketers over the years. You only have to think of the Flower brothers, Heath Streak, Alli Campbell and Murray Goodwin. These guys were also advantaged by playing regularly against class opposition. Zimbabwe have a few that could add value like Masakadza, Utseya and Chigumbura. But I have gone for Taylor for his all round ability and also his world appearances. Taylor can bat, bowl and keep in a true genuine all rounder way and has also played in New Zealand, Bangladesh and in the IPL.
Who would you love to see in the RAM Slam this year? Let us know on Social Media