The Investec South African Hockey Women recently completed the Summer Series with two series of high quality hockey. They faced off with Belgium in a four game series against and Chile in a six game series. With Pietie Coetzee now retired and Marsha Cox unavailable for the series, the SA ladies were able to select a few new caps for the festival of hockey in Cape Town, but also selected a largely experienced squad with the likes of Shelley Russell, Marcelle Manson and Sulette Damons all in the squad. Here is a review of the series, with a large thank you to Jon Cook for the details to fill in the blanks!
Investec South Africa vs. Belgium
The Investec South Africa side started off with a cracking match against Belgium. Belgium led early through a flawless penalty corner execution by De Groof. Both defenses did an outstanding job to repel the opposition and Sanani Mangisa was fantastic in denying Belgium a second. After more good defense by skipper Lisa Deetlifs, Marcelle Manson, Nicole Walveren and Nicolene Terblanche, lethal striker Lilian du Plessis popped up to finish a brilliant run by Sulette Damons. Despite having the momentum, SA were unable to score a winner and, in truth, were thankful to a wonderful triple save by Anelle van Deventer to deny Belgium the win. 1-1 the final score.
In the second test against Belgium, South Africa had to fight back from an early 2-0 deficit, both goals through De Groof. The South Africans fought back when Damons and Russell combined well to set up Dirkie Chamberlain, who finished with style. But the 2 goal lead was restored by Belgium through De Groof's hat-trick strike. South Africa refused to taste defeat and in a spirit of determination fought back through Nicolene Terblanche and a stunning backhand strike from Lilian du Plessis pulled it square. Final score 3-3.
The third test will be remember fondly by Sanani Mangisa who collected her 100th cap for South Africa. Sanani is a great servant of SA Hockey and we salute her from All Things Jabu. Belgium finally had a different goal scorer when Manon Simons finished a penalty corner variation to give the Europeans the lead. The fighting spirit already demonstrated by the South Africans in the first two tests was imminent again as Dirkie Chamberlain scored twice to give SA a half-time lead. On the stroke of the end of the third chukka, Candice Manuel got a well deserved goal after great work from today's skipper Jade Mayne. Belgium pulled a controversial goal back through Boon, but SA would hold on for a series lead. Final Score 3-2 to South Africa.
For the first time in the series, South Africa scored first and seemed to be galloping away with the match after Dirkie Chamberlain finished off Lisa Deetlefs penalty corner and captain for the day Sullette Damons finishing coolly. SA maintained this lead to half-time and looked certain to take an unassailable lead in the six match series. Weyns pulled one back in a second half that was completely dominated by the Belgians before De Groof scored her fifth of the series to level the series. With just three minutes left, Damons effected a great block from the PC, but De Groof slapped home the rebound to win the game for the Europeans and level the series. Final Score 3-2 to Belgium.
Lilian du Plessis was the match winner of the fifth test scoring the only goal of the match and it came as early as the 10th minute. In a series that had delivered 18 goals in the previous 4 matches, it was a battle of attrition rather than attack in this test. Mangisa, in the first half, and Hattingh in the second half, produced some high quality saves to keep a clean sheet, while in attack SA were unable to finish some great opportunities, but managed to win the game and steal a 2-1 lead in the series. Final Score 1-0 to South Africa
The final test in an incredibly tight series would produce another great spectacle for the spoiled Hartleyvale fans. This time it was through the inspired goalkeeping of Megane Simmons of Belgium as she produced a masterclass in last line defense. After the first chukka of 15 minutes saw Belgium repel numerous South African attacks, Belgium had a new found spirit in the second chukka and took the lead through van den Borre. SA fought back with massive pressure that would eventually pay off with a Penalty Stroke, expertly converted by Dirkie Chamberlain. But just two minutes later De Groof would score from a penalty corner to re-establish the lead. And as SA surged to try and steal a result, Belgium won another penalty corner and series top scorer De Groof fired home her 8th in the series to confirm the win and share the series. Final Score 3-1 to Belgium
Investec South Africa vs. Chile
South Africa played 20th ranked Chile in the first test and found themselves trailing (a far too constant trend) in the 3rd minute through a Penalty Corner converted by Caram. SA would create a host of chances through Damons, Coston, Bobbs and Britz, but would only level in the 24th minute through Russell cleaning up the scraps at a Penalty Corner. Two minutes into the third stanza Damons set the game alight with a stunning reverse-stick strike that put SA 2-1 up. Chile came back two minutes later to draw level through Urroz following a PC. But with 7 minutes left the high pace paid dividend for South Africa who finished chances through Chamberlain and Terblanche. Final Score 4-2 to South Africa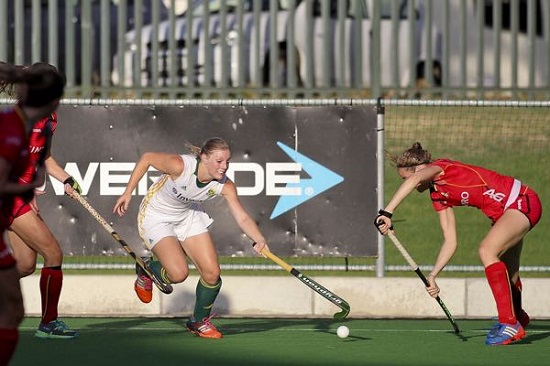 Unfortunately I only know the result of the second test and that South Africa fielded their most inexperienced and young line up of the summer, but that is where it ends unfortunately. Imagine it how you will with Chile winning. Final Score 2-0 to Chile
South Africa arguably produced their best display of hockey of the Summer with an annihilation of their South American opponents. Ilse Davids scored the first goal of the match through a field goal, which was quickly followed by Chamerlain scoring a field goal of her own. Caram made a wonder clearance from Russell, but the pain would not stop for Chile as Candice Manuel, Lillian du Plessis and Manuel again moved South Africa into top gear and into a 5-0 lead. Erin Hunter capped off the performance with a rare goal of her own. Final Score 6-0 to South Africa
The final test of the series will arguably then be the one that disappointed the South Africans the most. After a fine 6-0 victory you would have expected them to march home and seal the series. The SA team started like a house on fire Tuesday, moving the ball beautifully around the park and threatened to overwhelm Chile the same way they did just 20-odd hours before, but there was one glaring problem – umpteen attacks broke down inside the attacking 23-metre area as well in the strike zone. And as Bafana Bafana know so well, if you dont take your chances, they bite you in the ass. Urroz slotted home a tap-in in the 52nd minute to surprise and silence the crowd. Final Score 1-0 to Chile
Follow the SA Womens Hockey team on:
Facebook
Twitter
Instagram