Australia are the champions for the ICC Cricket World Cup for the fourth time in the last five tournaments with another one-sided final to regain their spot at the top of International limited overs cricket. After the tournament that ran for longer than a season of Masterchef Australia, has finally come to its conclusion, the ICC picked their team of the tournament and here Jabu presents his team of the tournament.
Kumar Sangakkara – Sri Lanka (Keeper)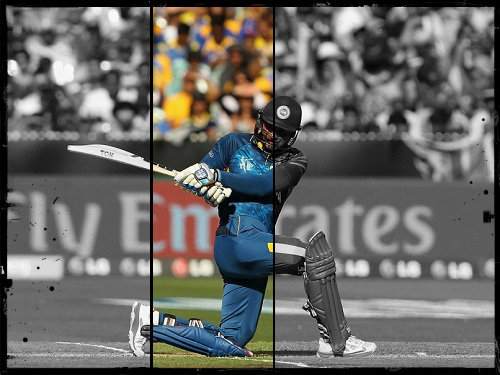 At the end of his ODI career, Sangakkara underlined in this World Cup with the class so often associated with his career. It was a pity that his final game was so heavily controlled and bossed by South Africa, but Kumar lit the group stage alight when he became the first player in history to score four consecutive centuries including a brilliant knock against England and a defiant knock against Australia. Kumar finished his World Cup with an average of 108.20, incredible.
Martin Guptill – New Zealand
You don't finish top runscorer at the World Cup and not make the team of the tournament. Guptill scored a sensational 547 runs at an average of 68.37. He wasn't sure of his place in the side before the tournament, but completed the tournament with the highest ever World Cup score of 237 not out against West Indies. His 105 against Bangladesh further cemented his place in the line-up.
Brendan Taylor – Zimbabwe
Brendan Taylor, the Zimbabwean keeper, had an exceptional World Cup for himself. While Zimbabwe had a pretty poor World Cup, Taylor almost singlehandedly carried the team. His stand out innings included an incredible 138 against India and 121 against Ireland in a heart-breaking nail-biter. He also chipped in with a valuable 50 against Pakistan and 40 against South Africa. You only have to wonder if Taylor could have switched allegiance (Like Morgan from Ireland to England), how his cricket could have advanced. I really think he could be a great test player given more opportunity.
Grant Elliott – New Zealand
He may have finished in 20th place of the top run scorer's but it is for his two knocks in the two most important games that places the South African-born Kiwi in my team of the tournament. At 36 years of age, this was in all likelihood, Elliott's final World Cup joint and he did his best to drag his team into the final with an exceptional 84* against the country of his birth. In the disappointing final, Elliot was the one New Zealand batsmen to hold his head up high scoring 83 runs in an average total of 183. Elliott was not even in the reckoning for the World Cup a year ago, but emerged as a gladiator for the Kiwi's in an ultimately unsuccessful cause.
Steve Smith – Australia (Captain)
Arguably the best cricketer on the planet right now and probably the future captain of Australia, although he was ready to captain in this tournament already in my opinion. Smith underlined just what a colossus of the game he will be as he marched to five consecutive scores of 50 or more, including becoming the first Australian to score a century in a World Cup Semi-Final. He can also bowl a fair bit which would largely assist with covering of our fifth bowler.
AB de Villiers – South Africa
The magnitude of plaudits for AB are exceptional and rightfully so. The South African skipper, along with Chad le Clos, is the countries true claim to having a World Class sports star. His unorthodox ability to generate power from all sorts of positions makes him one of the hardest batsmen to bowl to. His World Cup also saw AB complete his collection of quickest milestones as his 150 against West Indies is now the fastest 150 in the history of ODI cricket. His emotion at the end of the Semi-Final defeat told a story of a broken man, who left it all on the field for his country. South Africa are blessed to be able to call on AB as their own!
Glenn Maxwell – Australia
Arguably the most exciting cricketer on the planet, alongside AB de Villiers, Maxwell is not just a brute force at the back-end of an innings, but also Australia's front-line spinner in their World Cup-winning side. 100 off of 53 balls against Sri Lanka turned a game on its head and helped culminate towards a World Cup strike rate of 182. Maxwell is, like De Villiers, one of those players slightly further down the order whose presence is felt almost as much before he bats as during it. When you have De Villiers or Maxwell still to come in, all talk of projected scores and possible targets mean nothing.
Mohammed Shami – India
India took all ten wickets in every match they won at the World Cup, missing out only in the Semi-Final. The tournament saw a much improved bowling performance by India on a type of pitch they usually struggle with. 17 wickets in the tournament in 7 matches is an exceptional return and it was consistency in performance that brings Shami into our team as one of the four pronged pace attack.
Mitchell Starc – Australia
The tournaments star was maybe not the Mitchell that many of us expected, but it was still a left arm fast bowling Mitchell from Australia. He took 22 wickets to stand atop the wicket takers pile in a very batsmen dominated World Cup. His performance of 6/28 against New Zealand in the pool stages almost saved the day and his consistency saw him take two wickets in every game at least. In a World Cup that saw more 300's than ever before, Starc also went at an economical 3.50 an over.
Trent Boult – New Zealand
Another left arm seamer and another 22 wickets in the tournament. Boult was maybe less of a known entity as he had played in barely a handful of ODI's prior to the World Cup. Boult bowled a staggering 14 maidens, which is 7 more than the next highest. 4/44 against West Indies and 5/27 against Australia, where he ripped through the Australian line-up, was something exceptional to see. At 25 years old, we will hopefully see much more of his left arm swing bowling for years to come.
Morne Morkel – South Africa
South Africa were going to win the World Cup on the back of the form and class of Dale Steyn, at least that was the general South African view before the tournament. Morne, however, outshone his senior pace bowling partner with some exceptional bowling. His quarter-final restriction of Sangakkara was exceptional, while going for only 4.38 per over bowled at the World Cup. Had South Africa made the Cricket World Cup final, it would have been Morkel's 100th ODI and arguably he would have been the most deserving to be there.
So who makes your team of the tournament? Let us know below?