Description
INNOVATION
POWER CUSHION+
The ECLIPSION X2 features a specially shaped wedge of POWER CUSHION+ in the heel designed specifically to absorb shock associated with the footwork of Squash. By improving shock absorption, our POWER CUSHION+ technology transforms impact into energy. A 28%* increase in shock absorption and a 62%** increase in repulsion when compared to the standard EVA materials.
*Measured by the Japan Vehicle Inspection Association
**According to research by the Boken Quality Evaluation Institute, JIS Law is applied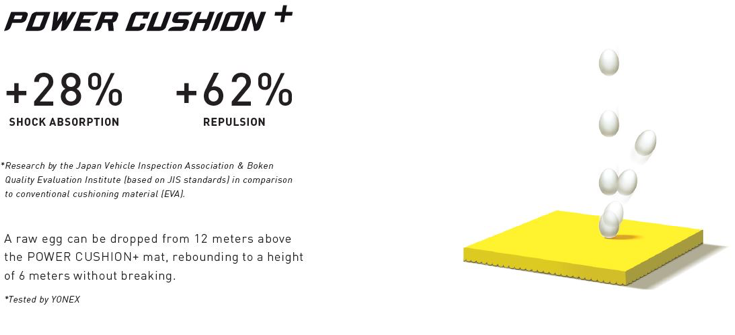 Power cushion
The power cushion is a lightweight shock absorber originally developed by Yonex.
While softening the impact received at the time of landing, the energy is converted to the next footwork.
Durable Skin Light
Combining rubber-like flexibility with the stiffness of hard plastic, the polyurethane-based Durable Skin Light lets you play light on your feet while maintaining a secure and snug fit.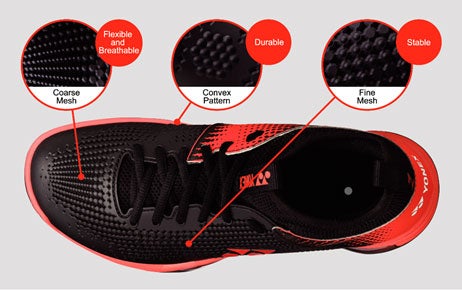 Synchro-Fit Insole
Fig 1.
YONEX Synchro-Fit Insole construction creates a secure contact between foot and shoe, reducing energy wastage through an improved fit.
Fig 1. Compared with conventional badminton shoes, the mid to heel section on the insole is elevated to provide an improved fit between foot and shoe.
Fig 2.
Fig 2. By holding the heel firmly against the insole, the gap between foot and shoe is reduced, improving comfort and performance, ensuring the foot has maximum grip inside the shoe.
 Toe Assist Shape
A toe-centric design that cuts down on pressure in the big toe, as well as offering improved support at the mid-foot and heel for a stable fit. Power loss is reduced, allowing for swift footwork.