Description
Yonex sports socks specially designed for comfort, performance, and intensive play. The socks have 3 dimensionally designed left and right foot socks and 3 Splits separations of toe coverings to ensure maximum fit and comfort: the big toe has a longer and larger area, the middle toes have medium size and wider area for the 3 middle toes, and the pinky toe has a shorter and smaller area. Paddings are also placed strategically by providing thick layers of material on areas that need more padding and thin layers on areas that do not need it while keeping the socks breathable, super soft, and comfortable to wear. Excellent for protection, comfort, and performance, especially in tournaments.
The Yonex 3D Ergo Sports Crew Socks 19160 uses the highest quality materials and carefully manufactured in Japan. (Made in Japan)
Hybrid Power Socks Technology
STABILIZES MUSCLES FOR SMOOTH AND NATURAL MOVEMENT ON PUSH OFF AND IMPACT.
3D Split ( Toes Spread Support)

Various pressure is applied across your calf, offering comprehensive support for enhanced movement.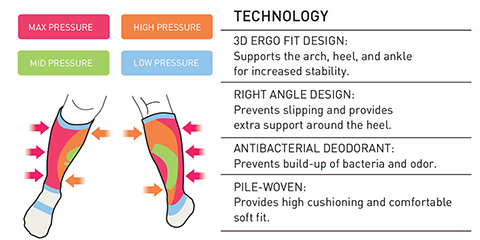 Features

Composition: 50% Cotton, 24% Polyester, 21% Acrylic, 4% Nylon, 1% Polyurethane