Dion von Moltke has built his career in Grand-Am and the American Le Mans series on a solid foundation of international Karting and Formula Car racing. Dion races under the South African flag — he was born in Texas from South African parents, and having lived in Sydney and Los Angeles before moving to his current home in Miami, Dion started racing karts at 13 in Southern Florida. Dion won several championships at the local and state level before moving up to the National and International level, participating in World championship Karting events in Italy. Since then he has steadily progressed through several professional racing series, becoming a very successful and respected professional race car driver that has multiple wins in Skip Barber, Grand-Am, and American Le Mans series, including a win at the legendary 12 Hours of Sebring. Dion is also a highly popular driver instructor, focusing on all aspects of peak performance, and has developed a coaching program called "Perform 360". All Things Jabu sat down and had a chat with the South African Superstar!
All Things Jabu (ATJ): What was the move from Karts to Cars like for you?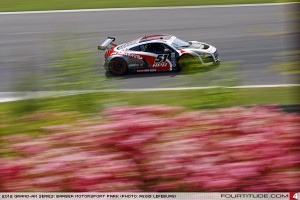 Dion von Moltke (DvM): It was a very difficult change.  Going from something that me and my mechanic could literally pick up easily together (only weighing a few hundred pounds) to now a few thousand pound object, with just you know a few hundred extra horse power or so was quite a big adjustment ha-ha!  Getting used to something with suspension and gears was a big learning curve but here in the States they have a great racing school called Skip Barber that a lot of us young karters went to so we could begin learning what racing race cars was all about!
ATJ: You have won 9 times so far, which one of those stands out the most?
DvM: My most recent win at the famed 12 Hours of Sebring was definitely my biggest professional win.  Driving for Alex Job who is a legend in the sport was a huge opportunity and to be able to win his 8th Sebring 12 Hour was really special.  It didn't come without a lot of drama either!! With about an hour and half to go the second place car actually hit me in turn 17 which gave us all a huge scare.  Somehow the crew said there was not much damage and we got back out right away.  I had to push from right out the pit lane to retain our lead so my first time through bishops bend, a flat out double left hander which we take at nearly 200kph was a pretty nervous moment!  I kind of just committed to it closed my eyes a little bit but the car held together and I was able to race the remaining hour and a half in total darkness only interrupted by the occasionally Bon fire from the fans to a huge win!
ATJ: What is your goal for the rest of the season?
DvM: This is Audi's year racing in the States and I really want to bring the manufacturer its first win here in the R8!  You can tell by its success internationally with over 100 race wins that it is a really well built and engineered car.  That combined with the amazing group of guys at APR Motorsport we are really starting to learn this car quick and get it competitive in an extremely tough Grand-Am Rolex GT class.
ATJ: And what has the highlight of your career been so far?
DvM: That's a tough one!! Between finally signing the contract to drive with Dr. Jim Norman in the Parathyroid.com / PR Newswire / South African Airways Audi R8 this year and winning the 60th Running of the Sebring 12 Hours were both major moments for me.  So obviously 2012 has been a great year for me so far but I am continuing to work as hard as I can so we can get this Audi to the front of the pack.
ATJ: Where do you see yourself going next in your career?
DvM: My goal for sure is to be Running Le Mans someday soon.  It is the ultimate race for any race car driver and to be able to test yourself against the absolute best in the world is what any driver wants to do in his career.  But for now I'm focused on one day at a time one race at a time.  For me the next race is always the most important race of my career, so this weekend I am completely focused at giving my absolute best performance possible here in New Jersey Motorsports Park.
ATJ: How does South African racing compare to that in the States?
DvM: The racing back home in South Africa is highly competitive like it is here in the States.  South Africa is home to a huge amount talent as there are so many great drivers but it just doesn't have the international notoriety as it once did.  No doubt the guys winning races in South Africa could be winning races anywhere in the world.  When Hennie Groenwald joined me here in the states for a few races he showed what a genuine talent he is! Turning heads every time he was in the car.  I hope that Motorsport back home can regain the prestige it once had but it has to start one step at a time and the first step is for the locals to seeing more of the amazing and world class racing that South Africa provides.
ATJ: Who is the toughest driver you have competed against ever?
DvM: That's a really tough one, there are so many drivers I can think of that have really pushed me.  I think if one came to mind it would be a good friend of mine and current GM factory driver Jordan Taylor.  He and I are very close in age and his parents are South African as well, his dad is sports car champion Wayne Taylor.
ATJ: Do you follow any other sport?
DvM: I follow pretty much every and all sports!!
ATJ: Okay, so who do you support?
DvM: Obviously my #1 team is the Springboks!! But unfortunately we don't get very much coverage here in the states so I am kept updates by my mates in South Africa.  Also a big Liverpool fan (I know it's been a rough few years for us!) ha-ha!
ATJ: If you weren't racing cars around the world, what would you be doing?
DvM: I would be a professional athlete of some sort!  Sports are my life now and I wouldn't trade it for anything.  I love the athlete lifestyle and the training and hard work that goes into it!  Saying you're a race car driver is one of the most amazing things to me.
ATJ: Have you got a motor sporting role model?
DvM: I think like any driver growing up I watched and loved formula 1, I still watch ever race today.  Although growing up I was a huge Schumacher fan so for anyone that has followed the sport to say I now really like how Alonso is driving and how he builds a team is a bit of a weird thing!  But I have to say his leadership and his driving abilities are absolutely amazing.
ATJ: Where can readers follow up more on you?
DvM: The best places are Facebook Fan Page and twitter!! As well as my website at www.Dionvm.com! I appreciate everyone's support and would love to hear from you guys!!   Thanks again to Jabu for this interview!  It is always special to me to talk with people back home and tell them my story and how I am trying to fly our flag high over here in the States!